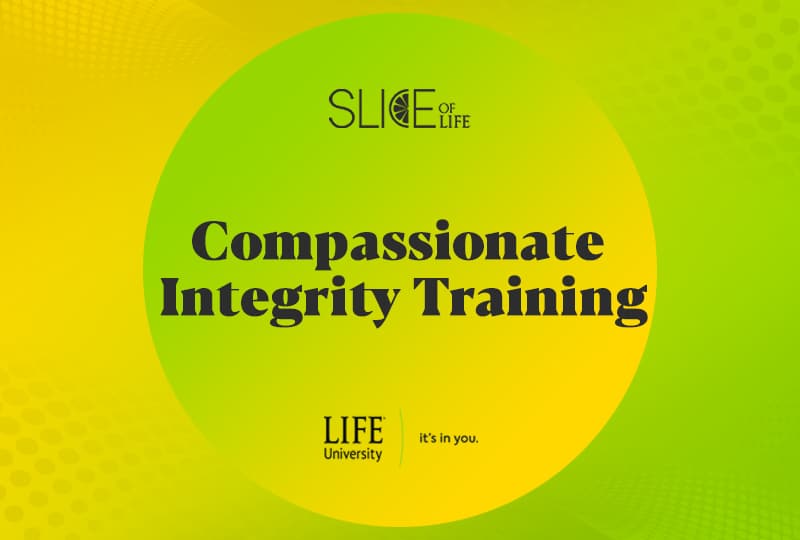 Big ideas often come from humble beginnings, which makes sense as we reflect on how two Life University (Life U) colleagues came together in a College of Graduate and Undergraduate Studies (CGUS) office to discuss ideas on compassion and integrity, which would lead to a cultural shift at the University. What became abundantly clear is how these two very different puzzle pieces in reality fit perfectly together. Dr. Michael Karlin, Associate Director of the Life U Center for Compassion, Integrity and Secular Ethics (CCISE) and Dr. Brendan Ozawa-de Silva, the former Associate Director for Life U CCISE who currently works at Emory University, began a journey that would lead them to create Compassionate and Integrity Training (CIT).
This very special program was originally created as one component of a Contemplative Science and Secular Ethics master's degree program formerly offered at Life U.  CIT evoked such passion from its creators that it built a life of its own and became a program known worldwide that United Nations Educational, Scientific and Cultural Organization (UNESCO) offers. CIT is taught globally and has transformed thousands of lives through its core focus on finding self-understanding and the understanding of how to treat and relate to others.
"Compassionate Integrity Training (CIT) is a multi-part training program that cultivates basic human values as skills for the purpose of increasing individual, social and environmental flourishing."
Dr. Karlin is the co-author of Compassionate Integrity Training: A Secular Ethics Approach to Cultivating Personal, Social and Environmental Flourishing. He reflects on the reasoning he and his co-author had for their divergent approach to a new training program.
"Brendan and I had both come from Emory University. We had experience, particularly Brendan did, with Cognitively Based Compassion Training, and we were originally going to incorporate that, and then over time as we started to think about that program that had already been in existence for 10 years, there were things that had shifted in the research," said Dr. Karlin.  "We knew we needed to make a program that was more trauma and resilience-informed after working with other compassion training and mindfulness programs in incarcerated settings. That is why we incorporated elements of the Community Resiliency Model of the Trauma Resource Institute and made the whole program strengths-based. "
With Dr. Guy F. Riekeman, then-Life U President and current Chancellor Emeritus, they explored the relationship between compassion and integrity and that there could not be one without the other. "Dr. Riekeman was emphasizing the importance of integrity, and we were wrestling with how we can make this round egg fit in a square hole. Because we have compassion; we have integrity; and then kind of, organically, what we realized is there's this thing that we call compassionate integrity, which is its own thing," said Dr. Karlin.  They brought together these new concepts and put them into a formal program.
"[CIT is] the invitation to be a part of something greater than yourself. What I am hoping we are doing is providing an invitation to a community of like-minded individuals. Even if we disagree, there is some form of community where we have enough care and respect for the people around us to have a dialogue and not just assume this person is here, [so] they must think exactly like me. But to really and truly get to know the people in the group, in the program, in the session you happen to be in, and even if you happen to disagree with them, to have enough respect to want to communicate openly with each other," said Jennifer Valtos, Co-Executive Director of CIT.
"I was in the Positive Psychology master's degree program when Michael and Brendon were developing CIT, so it was very exciting to see it start to take root and start to come together. I was not involved in any other way but as an observer, and I think I was among the first folks when they were piloting it, so it was pretty exciting to hear what they were putting together," said Rebecca Koch, Director of Service Initiatives and a CIT Facilitator. "For me, the most attractive thing [was] that it offered values as skills, and those values and skills were in alignment with and offered a way to operationalize the institution's foundational value of Lasting Purpose."
Currently, CIT is in a major transition.  Originally the goal was to teach as many individuals as possible about this program. Saying "yes" to everyone was essential to helping build and promote this program worldwide. Now that CIT is being taught globally, the next step for this program is to create an effective business model to move it into the future and sustain its importance. With that in mind, they are working to identify "agents of change." These are people who not only want to benefit from the program personally, but also want to bring it to the communities in which they live and make an impact on their community.  This could be a teacher who wants to bring it to their classroom or their entire school.  It could be a businessperson who wants to change the way their company operates.
"The agent of change is the way CIT is built. First, I have to cultivate self. Then, I can begin to relate to others. And then, I can learn how to bring that compassion and integrity into the world in a way that changes systems for the better," said Dr. Karlin.
Renee Athay, CIT Co-Executive Director, shared that for this growing program to continue its success, they must be strategic about where they focus next.
"[We must continue] paying attention to those individuals and organizations that we can partner with and collaborate with […] in a very grass-roots way. So whether it is a large or small organization – that there's a bottom-upness to this and an accessibility that allows everyone to participate," Athay said.
Slice of LIFE is an invitation to and extension of everything happening at Life University. Whether you are a current student, a potential freshman or a proud alum, Slice of LIFE can help keep you connected to your academic community. Know of a compelling Life U story to be shared, such as a riveting project, innovative group or something similar? Let us know by emailing Marketing@life.edu.
Related posts