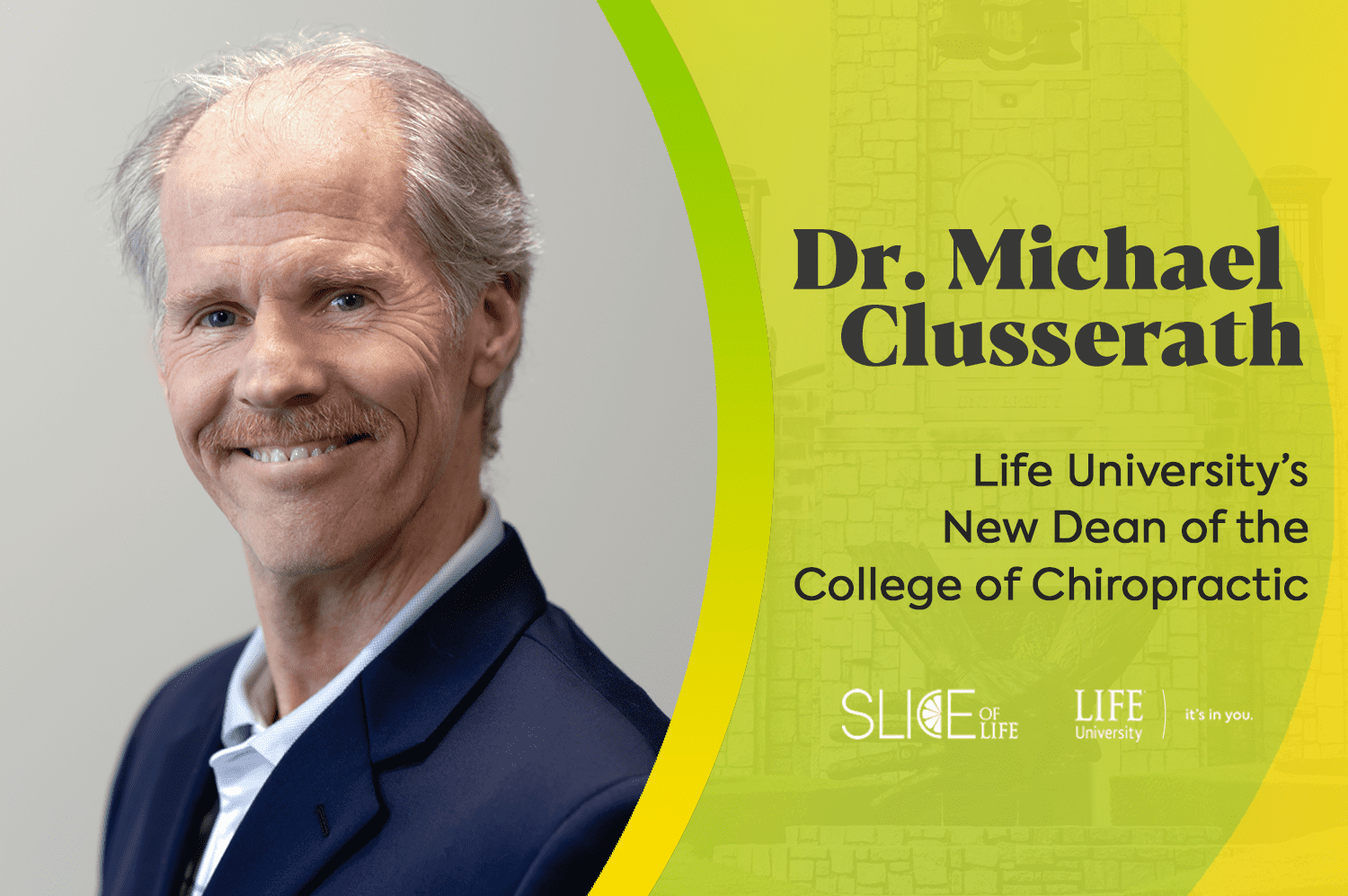 Meet Dr. Michael Clusserath, Life University's New Dean of the College of Chiropractic
Dr. Michael Clusserath, D.C. became the new Dean of the College of Chiropractic (COC) in January 2022. Dr. Clusserath was drawn to this position because he felt a strong need to make a difference for others through servant leadership. "I've been interested in this position to see how much I can make a difference. As the Dean of COC, I am responsible for every part of the [chiropractic] program at Life University, and that's a major commitment and responsibility, but I look forward to it," Dr. Clusserath said.
This month (April 2022), Dr. Clusserath celebrates his 10th work anniversary at Life U. He began his Life U career as a faculty member in the Center for Health and Optimum Performance (C-HOP) clinic. From there, he became the Associate Dean for several years before going back to being a faculty member in the clinic, and in June of 2021, he became the director of the clinic.
"Every position I have ever had in chiropractic education has been with the idea that I want to see how much of an impact I can make. I like to innovate. I like to build teams, and I think most people will tell you that I am pretty persistent when I want to try and get something done. Everything that's happening in the program right now with the clinic transformation and the curriculum revision—I'm really excited about. [And] where we are going and what we are trying to do—I want to be a part of it," said Dr. Clusserath.
The Dean of COC is a two-fold position. The first part of this position involves overseeing  all operations of the entire program and making sure that all classes are organized properly with the appropriate faculty teaching those courses. The other piece of this position is the daily activities that must happen in order to make for a successful program.
"Sitting still is just not what we are about at Life U. It's not how we approach things. [We are always] making sure the program is moving and fulfilling our responsibilities, and we are always trying to advance the values and mission of this institution," said Dr. Clusserath.
Life U is implementing changes to both the chiropractic curriculum and the clinic. "In three to four years when we see most of it implemented, I think most everyone is going to appreciate the work we do as administrators, on top of the day-to-day operations," said Dr. Clusserath. "Everybody is excited about the improvements and changes we're making. And along those lines, I am pretty excited about the curriculum revision, because I think we need to improve the sequence, the type of courses, the number of hours and preparing students for boards; all these things we are trying to do with the new curriculum."
Addressing student issues is one of the many tasks that he will be managing, and it will now be from a higher and more strategic level as the dean. The assistant deans manage many issues a student may be facing on a one-on-one level. Dr. Clusserath still wants to keep in touch with the students, however. He does not want to lose that connection he has built with them, and one of his favorite things to do is to walk the halls of the RCCE building to be visible and connect.
"I still love to stop and talk with the students. That's really what invigorates you," said Dr. Clusserath. "We get to see students, and that really keeps me motivated and inspired."
It's also one of the many reasons he loves attending graduations and clinic gateways. Clinic Gateway is a formal ceremony for 9th–12th quarter students who are formally inducted into the Life U clinic internship program. For Dr. Clusserath, these are important connections to continue, and he wants to keep sight of why he is here at Life U. One of his goals is making sure that every student has what they need to be successful. For him, student success is key to a successful program.
Inspiration and providing passion is something that Dr. Clusserath wants to model for the students, the faculty and the staff at Life U. He wants everyone to feel the excitement of what is happening at the University and for everyone to remember why they are doing what they are doing. He believes that if the faculty and staff are excited in their roles, this will create a much better student experience.
Continuing to build upon excellent leadership qualities is the key for Dr. Clusserath in this new role. "I always come back to leadership qualities—the idea that it is my responsibility to take on the tough issues, the tough situations and that I am here for [the students]. I want everybody to use me as a resource and to feed off of my excitement.
Slice of LIFE is an invitation to and extension of everything happening at Life U. Whether you are a current student, a potential freshman or a proud alumni, Slice of LIFE can help keep you connected to your academic community. Know of a compelling Life U story to be shared, such as a riveting project, innovative group or something similar? Let us know by emailing Marketing@life.edu.
Related posts