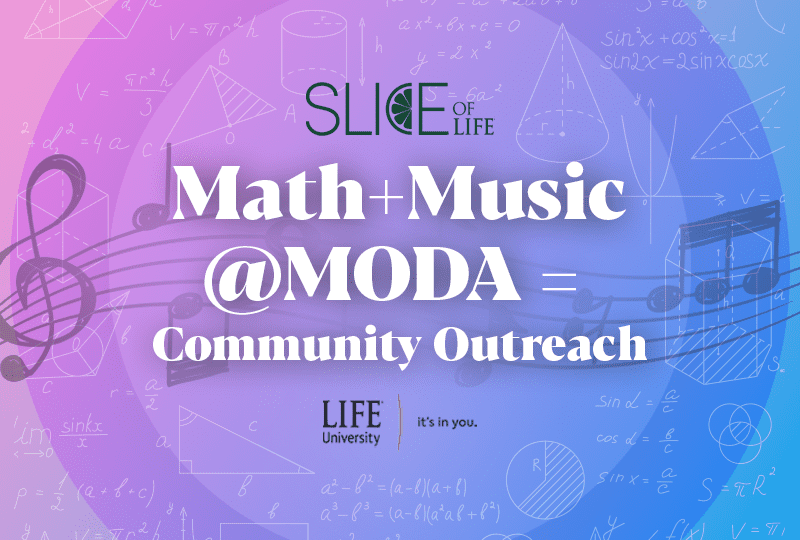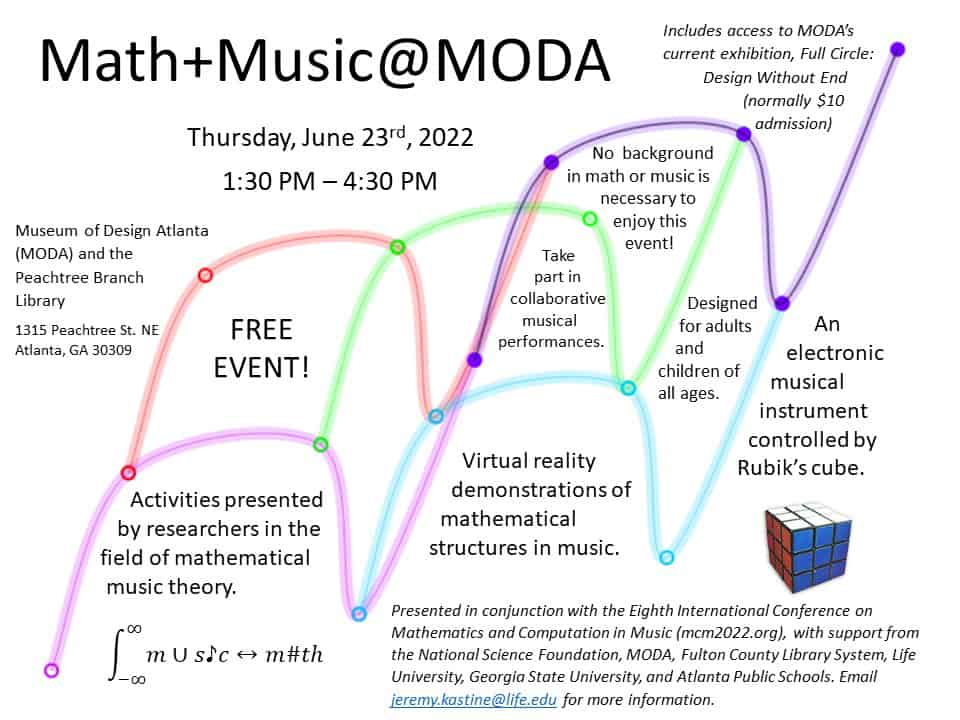 Understanding Mathematical & Musical Theory
Math and music are not typically linked together, but for members of the Society for Mathematics and Computation in Music, they see the distinct connection between these two. Mathematical and music theory is an area that is researched by members of this society. It is a small group of experts who would like to see their field grow in the future. To do this, they plan to host a free public portion of their conference in hopes of enticing others to learn more about what they do in a fun and interactive way.
Jeremy Kastine, a Life University (Life U) Assistant Professor in the College of Graduate and Undergraduate Studies (CGUS) General Studies Department, is also a member of the Society for Mathematics and Computation in Music and serves on the planning committee for the 2022 Conference. It will be held at Georgia State University. All are invited to attend the Math + Music @ MODA portion of this conference for free, hosted at the Museum of Design Atlanta (MODA) on Thursday, June 23, 2022, from 1:30-4:30 p.m.  The museum is located at 1315 Peachtree St. NE, Atlanta, GA 30309.
"One of the things that we wanted to do was have a public event that anyone could come to and learn a little bit more about mathematics and music from the experts," said Kastine. "It is not a very large field, but we would like to see it grow, so we want to get people interested in it. Mathematics can relate to anything. In music, there is a lot of fundamental concepts involving ratio, pitches, rhythms."
The MODA event was born from the Society's 2019 conference hosted in Spain. It stemmed from a talk given by one of its members who discussed the need for community outreach. This outreach has two objectives. The first would be to share their work with other like-minded individuals who are not aware of this Society and might be interested in becoming involved in research. The other aspect of this awareness would be from a fundraising standpoint and to raise money for research.
During the MODA portion of the event, the public will experience a hands-on science fair atmosphere where six stations will be set up and manned by the people who created each exhibit. No math or musical experience is needed to enjoy this event. There will be a musical Rubik's cube, called a "GOCube." As the pieces of the cube are moved, the corresponding chords can be heard through headphones, bringing to life the individual's composition they create as they maneuver the cube. Another presenter will be using virtual reality goggles to see mathematical structures related to music as the music is played, and there will be several other fun exhibits to enjoy.
Email Jeremy.Kastine@life.edu for more information.
Slice of LIFE is an invitation to and extension of everything happening at Life University. Whether you are a current student, a potential freshman or a proud alum, Slice of LIFE can help keep you connected to your academic community. Know of a compelling Life U story to be shared, such as a riveting project, innovative group or something similar? Let us know by emailing Marketing@life.edu.
---
Related posts