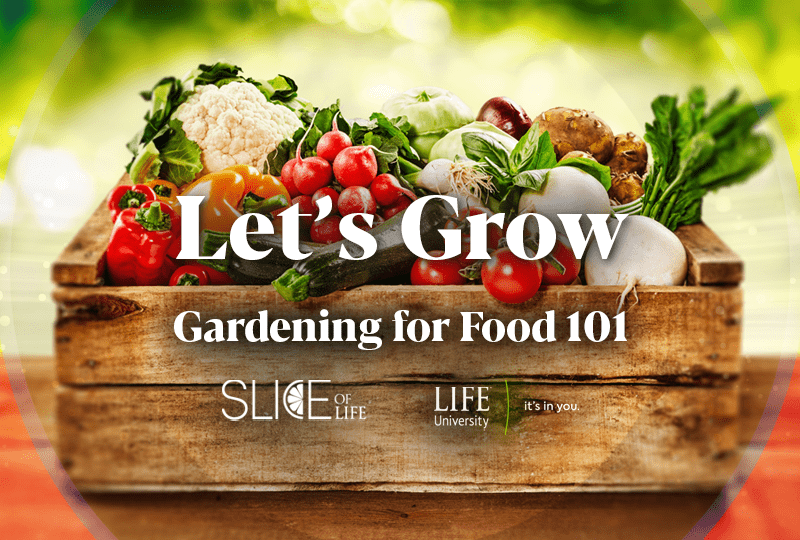 Proper nutrition and understanding of where our food comes from provide a solid foundation for health. Not to mention that gardening is a fun, enriching and relaxing hobby. Here at Life University (Life U), we sponsor many community garden boxes, tended by students and environmentally friendly groups such as Life U's own GreenLIFE club. However, the prospect of growing your own fruits and vegetables can seem a little daunting if you have never done it before, so let's break it down.
Gardening Basics
Foodprint.org shows us how to get started in their "Grow your own food" guide.
Step 1: Think about what is possible in the space you have.
Imagine a garden in your mind. Most people would picture an open garden in a backyard or a contained garden within a box of wood or metal, which both require access to a sizeable patch of land as well as good sunlight and soil. But there is nothing wrong with starting small, perhaps growing herbs by the windowsill or a container garden of plants that will not outgrow a deck or patio.
It's important to keep in mind the potential challenges that your intended gardening area might have. Ideally, a garden plot should have excellent soil, sunlight for six to eight hours daily and have enough space for the plant to grow without resulting in overcrowding. It is recommended to complete a soil test before planting in order to make sure the soil is nutrient-rich and free of contaminants. Several soil testing options are available online.
Step 2: Determine your gardening goals.
Like anything else in life, gardening takes time and patience. Be honest and realistic about how much time, effort and expense you wish to put toward this activity. Some plants take more work and maintenance than others, so it may be prudent as a first-time gardener to start with a few easy-to-care-for plants before adding on later as things progress.
Step 3: Seed Selection.
Now for the fun part. What are you going to grow? Some factors to consider are what time of year you plan to plant, as well as where you are located in the USDA Plant Hardiness Zone. The Plant Hardiness Zone helps gardeners see which plants would do best where they are planting by looking at the average annual minimum winter temperatures in those regions.
Here in Georgia, we tend to be in Hardiness Zone 7, sometimes Hardiness Zone 8 in more southern regions. According to "10 Best Vegetables to Grow in Georgia (2022 Guide)" by Thegardeningdad.com, some good options to consider would be cabbage, asparagus, kale, peas, squash, cucumbers, peppers, green beans, radishes and eggplant.
Also, sustainability is the name of the game, so when you get ready to make your seed purchases, consider doing so from a sustainable seed provider.
Step 4: Map it out.
Plants, like people, need enough room to grow. Seed packets usually provide spacing guidelines compliant with traditional, farm-based rows, so a plant spacing chart is a must to prevent overcrowding. A to-do list to keep things on track can also prove helpful.
Small Space, Big Gardening Dreams
Apartment or condo living does not disqualify determined green thumbs from giving gardening a go. It simply takes bit of ingenuity and creative use of indoor and outdoor spaces.
Maximize indoor space by utilizing vertical space. Think window sills and hanging baskets. If you have some limited outdoor space available, like a rooftop, side yard or balcony, utilize a raised bed or large containers. A trellis system is great for working with vertical space to grow vining vegetables, such as tomatoes and melons. For a balcony, it is possible to grow certain plants like tomatoes and eggplants upside down in a hanging bucket to make best use of space.
Community gardening is also a wonderful option for social enrichment, so search for one near you, check out Life U's community garden or think about where and how to begin your own!
Slice of LIFE is an invitation to and extension of everything happening at Life University. Whether you are a current student, a potential freshman or a proud alum, Slice of LIFE can help keep you connected to your academic community. Know of a compelling Life U story to be shared, such as a riveting project, innovative group or something similar? Let us know by emailing Marketing@life.edu.
Related posts