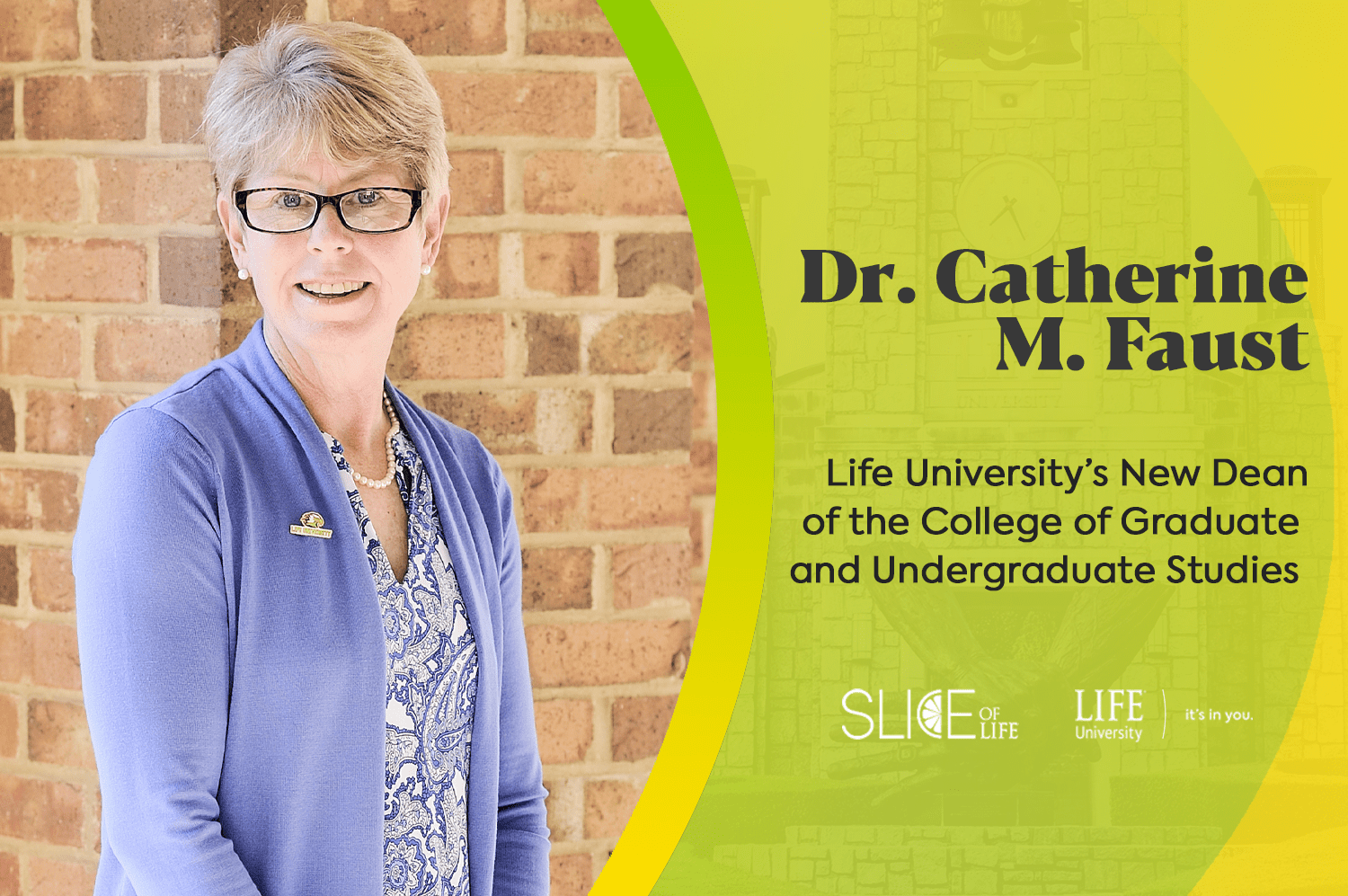 Servant Leadership is how Dr. Catherine M. Faust will approach her new role as the Dean of the College of Graduate and Undergraduate Studies (CGUS) at Life University (Life U). Faust has worked at Life U for the past 24 years, most recently as Associate Dean in CGUS. Dr. Faust looks at all aspects of her entire life through the lens of servant leadership.
"That is how I approached being here at Life U from day one. That's just how I approach everything in life as far as leading and serving. What can I do to help make Life University better not only with my colleagues, but also for our students? And that's why we're here," said Dr. Faust.
Her goal is to continue to be student-driven and focus on the needs of students today so that they are successful once they graduate. Providing Life U students with a positive experience while they are attending school and having them achieve their goals in the job market are Dr. Faust's ultimate goals.
"I try to be very student-centered, and I'm a huge advocate for students," said Faust.
Currently, Faust wants to enhance what CGUS already offers to students and make sure that what her area is doing is in alignment with the University's mission statement. She is working closely with Student Affairs to build a more purposeful approach to connect the bridge between current students and when they become job applicants.
Dr. Faust wants to see an alignment with what we do at Life U and whom organizations and corporations are looking to hire. This will help Life U focus on student retention. Her question to answer is: "What are they (companies and organizations) looking for, even in Cobb County? What are those up-and-coming areas that are going to be in demand?"
Working with Career Services to change the focus from a service standpoint to a strategy standpoint is an important goal for Dr. Faust.
"How do we make sure that [strategy] is integrated into each of our programs and into our curriculum so that we make sure that those students are equipped and ready to go? We have already started looking at and identifying those courses so that we can start to align and get with Student Affairs so that those students can have access to them. It would be a seamless process; it wouldn't be something that they have to go and seek out, which right now they're having to do," explained Faust.
Another important goal is converting all the undergrad programs to 180 credit hours. This conversion began before Dr. Faust became Dean, and this project will be completed by this summer in order to have it published in the Academic Catalog. The other major project is the Southern Association of Colleges and Schools (SACS) accreditation. CGUS is in the middle of a self-study, which must also be completed by this summer because of the assigned accreditation team's pending site review.
Dr. Faust is also involved in creating a partnership with a non-profit agency to offer service-learning opportunities for every program in CGUS. They hope that this partnership will be ready to begin June 2022. All students in the CGUS degree programs must complete 10 service hours for graduation.
"We have Development working with us and Dr. Richard Williams (Assistant Dean of Sports Health Science), who brought the non-profit to us. We've been working with Richard and the organization, and we're just trying to put some plans together, and that will be a great service-learning opportunity for our students," noted Faust.
Working alongside University Advancement, Dr. Faust and Dr. Michael Smith, Associate Dean of CGUS, have been attending several community events. They want to be strategic in creating internship opportunities for their students.
"We've been working closely with the Development Office (an area of University Advancement) so that we are intentionally creating those internship opportunities. We're getting ready to have a standardized process. It's taking what we are currently doing and refining … that helps with engagement. It also helps those students acquire those employable skills that they are going to need," said Dr. Faust.
Dr. Faust wants Life U students to know that faculty really care about them and want to see them succeed. She advises them to build strong relationships with the faculty.
"We have some amazing faculty here, and our students need to take the time to get to know their faculty. We've got a lot of great, exceptional folks here with skills that are going to help enable our students to go to that next level," said Dr. Faust.
Dr. Faust began her career at Life U as a professor in the Master's in Sport Health Science program, teaching cardiovascular exercise physiology classes to graduate students. Before coming to Life U, Dr. Faust was a clinician with a background in exercise physiology, and she later became an administrator for cardiology departments at a couple of hospitals. She also worked in the telemedicine field, bringing products to the FDA for over-the-counter sales. Dr. Faust has a Ph.D. from Texas Women's University in Denton, Texas in Exercise Physiology and master's and bachelor's degrees in Education from Eastern Kentucky University in Richmond, Kentucky.
Slice of LIFE is an invitation to and extension of everything happening at Life University. Whether you are a current student, a potential freshman or a proud alum, Slice of LIFE can help keep you connected to your academic community. Know of a compelling Life U story to be shared, such as a riveting project, innovative group or something similar? Let us know by emailing Marketing@life.edu.
Related posts