Marietta, Georgia , March 1, 2021 – Last night, the NAIA's national office announced that the Life University competitive cheer squad had earned one of only three at-large bids to the NAIA Competitive Cheer & Dance National Championships in Davenport, Iowa, standing as the first bid received in program history.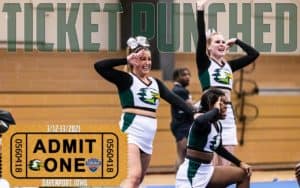 The team will travel to Davenport in two weeks, joining a field of 12 teams as competition starts Friday, March 12 with preliminaries and continues through the next day. The other 11 teams to earn admittance to the national championship are Bethel (Kansas), Concodia (Michigan), Georgetown (Kentucky), Indiana Wesleyan, Lourdes (Ohio), Midland (Nebraska), Missouri Valley, Mobile (Alabama), Oklahoma City, St. Ambrose (Iowa), and Xavier (Louisiana).
Head Coach Kirby Talley had this to say about earning the bid, "This is what we worked for all season long, getting this bid. If you had told me at the beginning of the year that our second year competitive program would be receiving a bid to nationals, we probably would not have believed you. When we got the email, we were extremely excited. We are very grateful that we get the chance to go compete." Talley continued, saying, "We are looking forward to seeing some teams that we have never competed against before and just getting to compete with the best of the best in the country."
Before heading to the NAIA National Championship, the Running Eagles will compete at the CCA Nationals in Roanoke, Virginia. on Saturday, March 6.
Founded in 1974, Life University is a health sciences institution most known for its Doctor of Chiropractic (D.C.) program, the largest single-campus chiropractic program in the world. Undergraduates can pursue 14 undergraduate degrees as well as a pre-chiropractic, degree-seeking pathway. Three graduate degrees are available, encompassing areas of sport health science, clinical nutrition and positive psychology. Some degree programs are offered to distance learners through the College of Online Education.
Life University strives to empower its students to succeed both professionally and personally. LIFE advances a leading-edge approach to higher education while also remaining true to the University's philosophical commitment to produce informed leaders who exemplify humanistic values in their professions. To achieve this goal, LIFE recognizes and demonstrates its dedication through three official Life University Values: Lasting Purpose, Vitalism and Integrity.
LIFE's 110-acre campus in Marietta, Georgia, just northwest of Atlanta, is home to more than 2,700 undergraduate, graduate and professional students who come from all 50 United States and more than 45 countries.
For more information about Life University Athletics, please visit LIFERunningEagles.com.
For more information about Life University, visit LIFE.edu.
Related posts