Marietta, Georgia, November 9, 2020 – Life University's (LIFE) Dr. Georgianna (Geo) Laws was selected as a speaker for Online Learning Consortium's premier conference this November, the 2020 OLC Accelerate + Velocity Conference – collectively one of the largest and most impactful gatherings of the online learning community. Dr. Laws is the Digital Learning Program Coordinator and Adjunct Faculty member within LIFE's College of Online Education.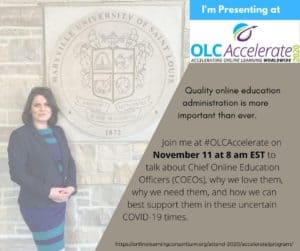 As the world has pivoted to the online environment during the COVID-19 pandemic, it has become even more important for educators to connect around reimagining pathways for student success within incredibly challenging contexts.
OLC Accelerate (held November 9-18) and OLC Velocity (held November 18-20) provide a path for those of all experience levels and backgrounds to share practices, address challenges and envision the future of online, blended and digital learning around the world. See the full program at onlinelearningconsortium.org/attend-2020/accelerate/program/.
Dr. Laws will offer a leadership-and-institutional-strategies track talk on Wednesday, November 11 from 8:00-9:45 a.m. EST; her presentation is titled "Chief online education officers (COEOs): We love them, we need them, but how can we best support them in these uncertain COVID-19 times?".
We encourage attending, and registration can be found at: https://onlinelearningconsortium.org/attend-2020/accelerate/register, Attendees will join thousands of educators, administrators and others in our community in learning from one another and using these synergies to improve the online experiences for all students. Registration for conferences includes access to live streamed sessions and on-demand recordings for one year post-conference. Discounts are available for OLC members and groups of three or more.
Related posts