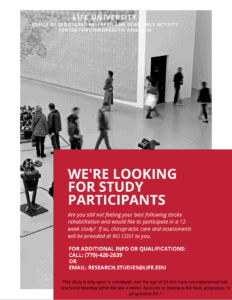 Life University's Office of Sponsored Research and Scholarly Activity Center for Chiropractic Research is looking for study participants.
Are you still not feeling your best following stroke rehabilitation and would like to participate in a 12-week study? If so, chiropractic care and assessments will be provided at NO COST to you.
For additional information or qualifications, call: (770)-426-2639 or email: Research.Studies@LIFE.edu.
This study is only open to individuals over the age of 18 who have not experienced subarachnoid bleeding within the last 4 weeks, fractures or trauma to the skull, pregnancy, or progressive RA.
Related posts