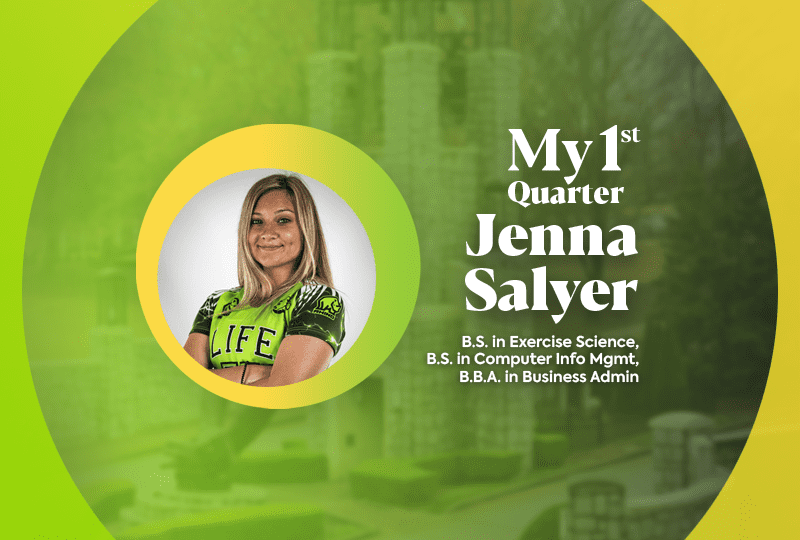 Triple Major- B.S. in Exercise Science, B.S. in Computer Information Management, B.B.A. in Business Administration
What made your first quarter at Life U memorable? 
I lived in the Commons when the 4th floor was all girls, so I got to meet so many different people, just from hanging out in the common area. I think that was one of the coolest things, just how easy it is to meet people and talk to people, and then you see them in classes and everything.
[…] It helps too that, when you are in a certain major, that you keep those same people in your classes, which is really nice because you're just constantly knowing people. So you never feel like you are alone.
What surprised you during your first quarter at Life U?
I thought I was going to have a much harder time getting around campus and figuring out where all my classes were. It was surprisingly easy to pick up.
What is it like to be a Triple Major?
I'm triple majoring because I want to get a Master's in Biomedical Engineering and then use that to get my Master's in Prosthetics. I want to do robotic prosthetics, so I want to go ahead and get all my prerequisites that I will need covered all at once. It's not bad at all. It will take me a total of five years, and it helps that the Business and the Computer Information Management programs are really similar except for just a few different classes.
As a recipient of a Life U Memorial Scholarship, how did that help you and what did it mean to you?
[The scholarship] meant the world. It was nice to not have to worry so much about 'Am I going to cover rent, or am I going to cover tuition?" It was nice to have no stress. It's covered; I don't' have to worry about it and wonder 'Can I take this many classes? Am I going to be able to afford it?'
You are a player for the Life U Women's Rugby Team. What do you enjoy about playing rugby at Life U?
It's just the coolest thing to have a set group of people that really become your family away from your family. You know you always have somebody, if you ever need to call someone, if you need a ride, if you need someone to talk to or you just need advice.
You have a team of 40 sisters that are there for you. And it's really nice that you know you always have someone having your back, and they know that you have their back.
What advice would you give to a new or prospective Life U student?
The best advice is to talk to people. Don't be afraid to meet everybody. Don't think that you are the only one thinking 'Oh, I don't know anybody. I don't know anything.' Because everybody is feeling the same way. It really is true that it's not just you. If you get up the courage to talk to somebody, it will make you feel so much better.
My 1st Quarter is a campaign featuring students reflecting on their 1st quarter of studies at Life University and why it was so special and unique. All University students (undergraduates, graduates and D.C.) are encouraged to share their experiences in order to help those in future incoming classes get a real-life glimpse of what they can expect as they start a new chapter of their education journeys at Life U. If you would like to be featured or have a suggestion, email Marketing@life.edu.
Related posts