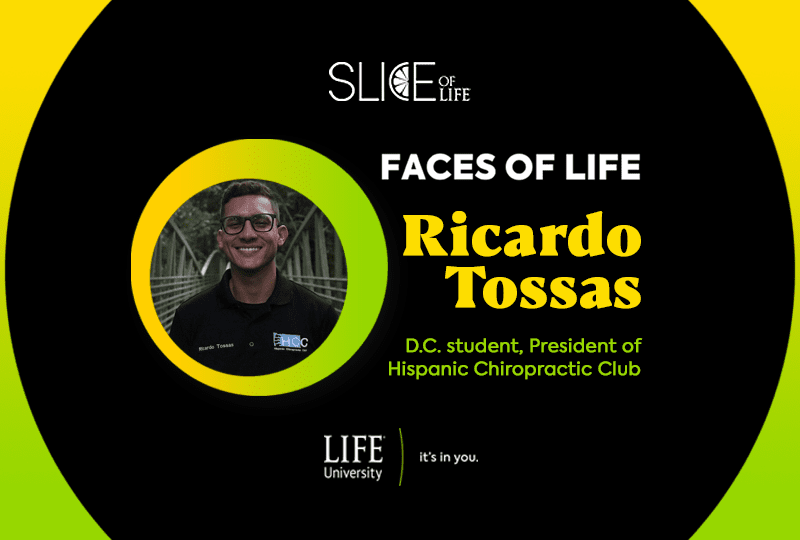 D.C. student, President of Hispanic Chiropractic Club
Hailing from Arecibo/Barceloneta, Puerto Rico, Ricardo Tossas has fostered an interest in studying a health-related profession from a young age, since playing sports as a kid. In his senior year of high school, he created a student club called Movimiento Estudiantil de Quiropráctica, which promotes chiropractic awareness and education for high school students.
Tossas obtained a bachelor's degree in Elementary Physical Education from the Interamericana University Recinto de Arecibo before coming to Georgia to enroll as a D.C. student at Life University (Life U). In his final year of undergraduate studies, Tossas visited several chiropractic colleges across the nation, but he was most impressed with Life U because "of the campus facilities, clubs, treatment with the students." He also enjoys working out at our state-of-the-art Fitness Center and experiencing nature on our scenic campus.
To say that coming to Life U was an adjustment would be putting it rather mildly, as Tossas was the only family member at that time living in the continental United States. Not only that, but he also had to learn English at the same time, a familiar problem for many of our international students. He is "so grateful" for the support of his family as he completes his studies here. Here on campus, Tossas is also growing something of a local community and family through his involvement with the Hispanic Chiropractic Club.
"Here on the campus, we have so much Hispanic community, so this is the thing that I love – to support that community. In other countries, we have the chiropractic profession, but the population there often doesn't know anything about our profession," explained Tossas.
So ideally, the Hispanic Chiropractic Club is designed to help students to find community within the school and equip them with tools to bring awareness about Chiropractic back to their home countries. Similarly, Tossas is also involved with Global Voices, a student-centered assistance program that offers academic resources and skills for personal and professional development, as well as sponsors cultural events for all students in order to guide them toward achieving their academic and cultural transition goals.
"It's so much better to collaborate together with Global Voices because, if we don't have a good base in the program, I don't know if we can be as successful in the future," said Tossas.

Faces of LIFE is a story campaign that showcases members of the dynamic Life U community, including faculty/staff, students, alumni and health science professionals. Interested in being featured or nominating a candidate? We want to hear from you! Email Marketing@life.edu. Read more Faces of LIFE stories.
Related posts