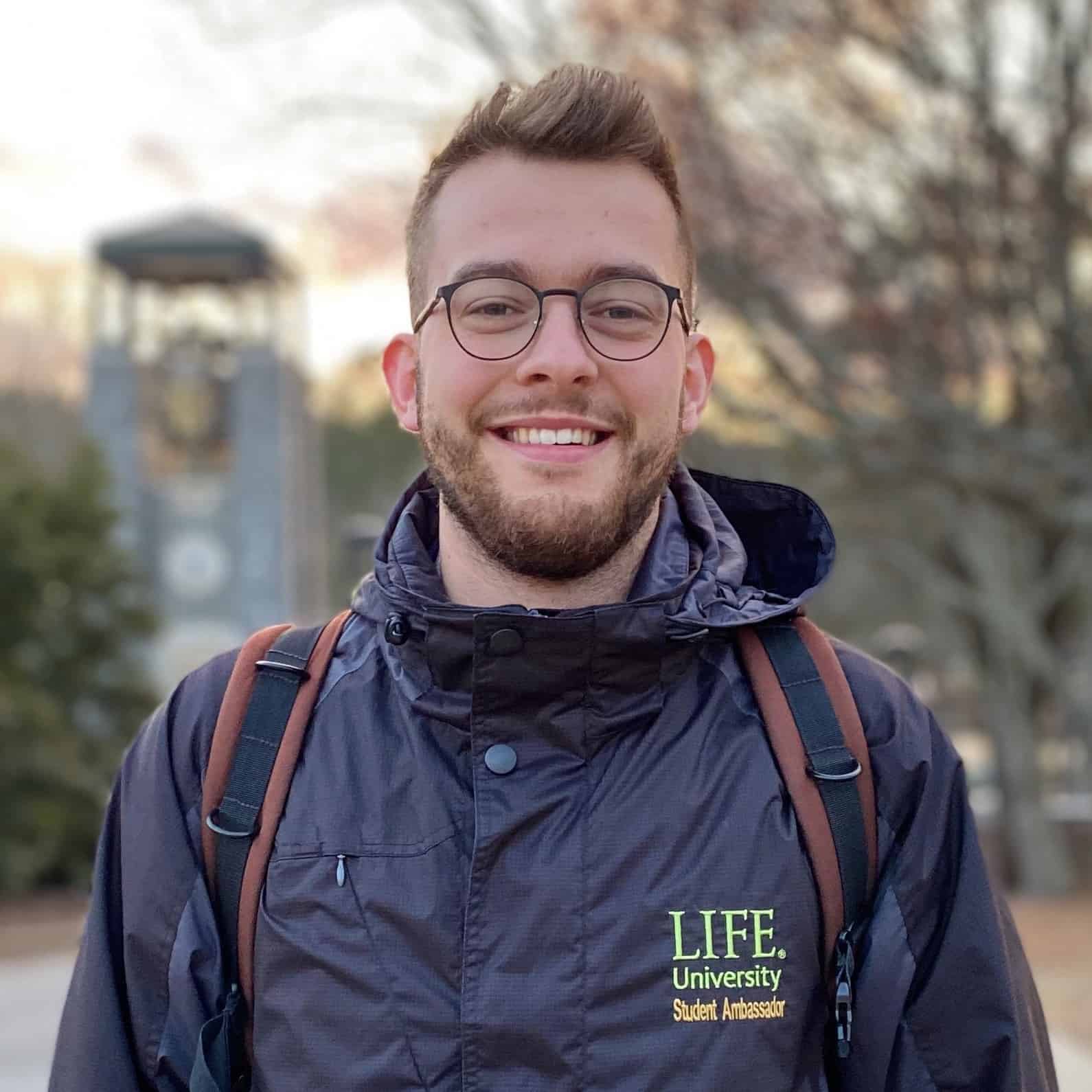 Kjell Paris
Bringing Chiropractic to Germany
Student: Doctor of Chiropractic Program
May 2020
Kjell Paris is a 12th quarter Doctor of Chiropractic Student at Life University. He is from Braunschweig, Germany and has a brother who is two and a half years younger who is also in the DC program. "My dad is a chiropractor, and my mom is an elementary school teacher, so we are 'chiropractic babies.'" Paris shared. "We were adjusted the first day we were born, which is pretty awesome."
Paris had a lot of different dreams before he came to LIFE. "My dream was to become a volcanic geologist that helps to develop new technology to detect when volcanos will erupt to save humans, resources and precious landmarks." He was influenced by his grandpa because he is a geologist, and it always peaked Paris' interest. "When I had my first few politics classes in the fifth grade, I considered environmental work because a lot of countries around the world don't have the funds to fight climate change." Last but not least, he considered law or becoming a politician to be a person that stands up for the people. Paris ultimately decided to become a chiropractor because he saw how much patient contact can change health care overall.
Paris went to LIFE Leadership weekend at LIFE in April 2014. When he interacted with the Student Ambassadors, it was an amazing experience where he felt included. He visited several other schools, but LIFE resonated with him so much that he felt it was the only choice to make.
The people he met that weekend continue to stay in contact and helped Paris integrate into the community with a flourishing support system. "Since a lot of classes have been moved to voice-over lectures, my friends and I started a group where we give each other daily reminders of what is due over the next week to make sure that we don't forget things." Paris described the ripple effect this can cause when someone helps another person and that person helps another person. Through those small actions, "we'll end up having a big change."
When he first started at LIFE in January 2016, he was in the exercise science program for five quarters through the Pre-D.C. pathway. "I think most of the teachers here at Life University go above and beyond for their students, which is really nice." Paris said. When he completed his pre-D.C. studies, he began the D.C. program.
Paris is also involved at LIFE through the Student Ambassadors. The Mission of LIFE's Student Ambassadors is to promote the vision, growth and quality of Life University by optimizing the experience of current students, prospective students and special guests. As a Student Ambassador, Paris is part of a group of students that represents the President's Office and serves at LIFE Leadership Weekends, weekly virtual tours and graduation.
In his free time, Paris enjoys riding his bike, hiking, going on walks or for a run. As long as it's outside, he's all in. After graduation Paris plans on visiting family out west. "They live in Seattle, Washington, Los Angeles and San Diego, and I have always dreamed about living in Washington or California," Paris shared. "Then eventually I do want to return to Germany because, believe it or not, we only have 150-200 chiropractors for about 82 million people." Paris has considered working with his dad and serving the German population. "A lot of Germans have never even heard of Chiropractic, so there's a lot of educational work to do. I hope I can be part of that."
Paris wants to encourage other students to move every day, eat well and try to be as positive as you can. "Make sure to reach out to other students because the easiest way to succeed is if you have that support network," Paris shared. "I think it is a great example of our 'Speak Tradition' on campus, and if you combine that with Lasting Purpose, you are good to go."
LEARN MORE:
Faces of LIFE is a story campaign that showcases members of the dynamic LIFE community, including faculty/staff, students, alumni and health science professionals. Interested in being featured or nominating a candidate? E-mail Natalie.Esparza@LIFE.edu. Read more Faces of LIFE stories.
Related posts