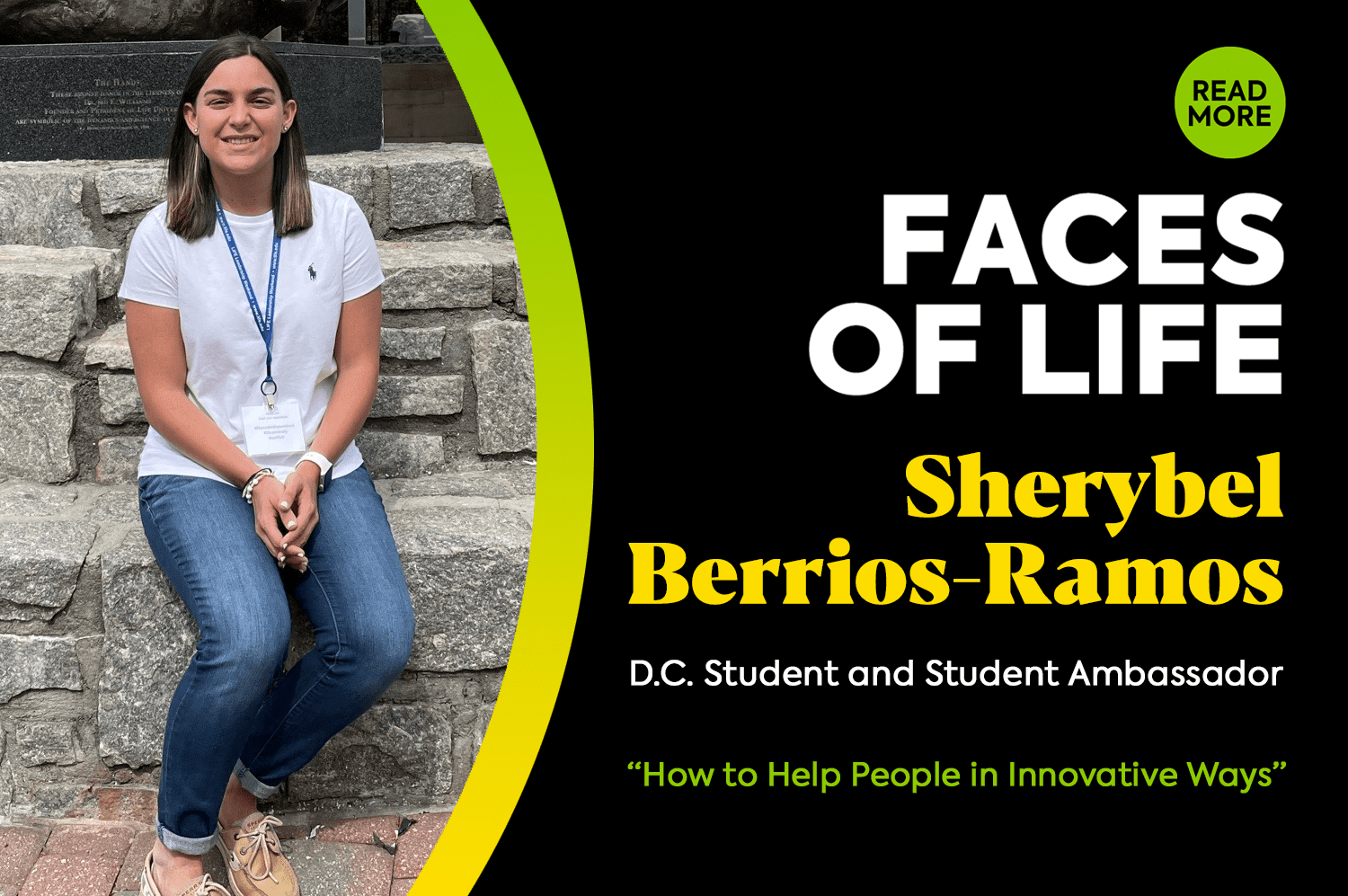 Faces of LIFE- Sherybel Berrios-Ramos
D.C. Student and Student Ambassador
"How to Help People in Innovative Ways"
If you were to put a pin in a map that shows where all the students enrolled in Life U are from, the pins would dot all over as a colorful testament to our diverse campus culture. Many of those pins would land in Puerto Rico, like it would for Sherybel Berrios-Ramos, who is from the capital of San Juan. She is currently in her third quarter of the D.C. program, excited to see what comes next.
Berrios-Ramos' initial introduction to sports medicine and later chiropractic care proved quite dramatic and formative, playing a key role in where she is today. As a young teen, a sports injury during a volleyball tournament led to severe back pain that not only sidelined her but also, required a mad dash to the hospital when she began to lose the ability to move her legs. With proper care, physical therapy and rest from volleyball for more than a month, Berrios-Ramos recovered and returned to competitive play, but the experience stayed with her.
She noticed the emphasis placed on health care in an athletic setting and wanted to know more. She obtained an associate degree in physical therapy, followed by a bachelor's degree in biology, but she felt she wanted to do something beyond the realm of physical therapy.
After exploring chiropractic education online, Berrios-Ramos came across the Life U Doctor of Chiropractic program and decided to "give it a chance" by attending LIFE Leadership Weekend (LLW).
"By attending LLW, I saw that this profession and this university is where I am supposed to be," said Berrios-Ramos.
Oddly enough, Berrios-Ramos had never received a chiropractic adjustment prior to her attending Life U. But despite her previous lack of exposure to chiropractic practice, her enthusiasm has only grown.
"I believe so much in Chiropractic and in Life U, so I decided this was going to be my lifelong profession," declared Berrios-Ramos.
Berrios-Ramos has appreciated the friendly community that is a staple here at Life U, noting how upperclassmen make a point to welcome first quarter students into the fold. She also enjoys the accessibility of faculty and staff and their willingness to be of assistance.
"They treat you like the doctors that we are going to be later," said Berrios-Ramos.
But crossing oceans to go to college still has its challenges, of course. With English not being her first language and with family far away, Berrios-Ramos has had to develop a support network. She connected with two Student Ambassadors that she now calls her mentors, following in their example to become a Student Ambassador herself.
"I decided that once I got in, I wanted to be part of [Student Ambassadors] and help other students—be that guidance that some of them will need to decide if this is the correct path for them, to be a chiropractor and be a part of the program," said Berrios-Ramos.
In regard to Hispanic students, Spanish-speaking students or students concerned with a language barrier, Berrios-Ramos encourages these prospective students that faculty and staff are very helpful in assisting with material comprehension. And in general, she encourages all students to put everything they have into the experience and learn everything possible, as well to join clubs that "turn on your light bulb."
Faces of LIFE is a story campaign that showcases members of the dynamic Life U community, including faculty/staff, students, alumni and health science professionals. Interested in being featured or nominating a candidate? We want to hear from you! Email Marketing@LIFE.edu. Read more Faces of LIFE stories.
Related posts