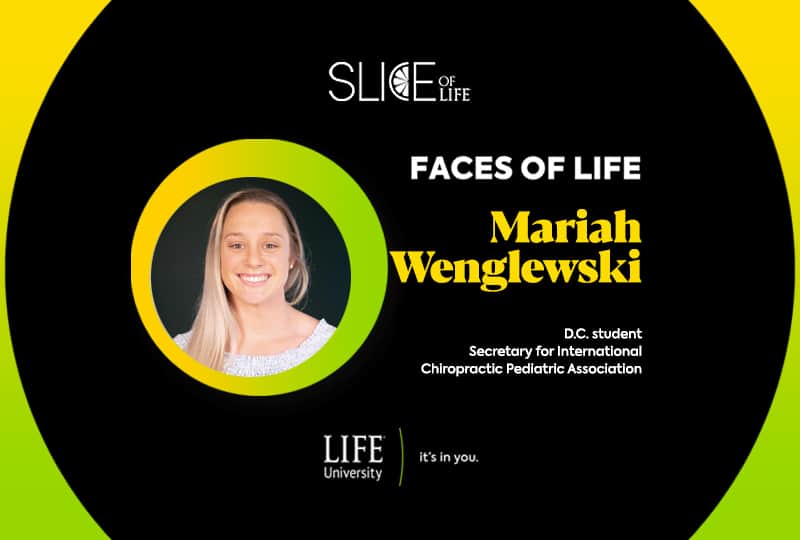 D.C. student, Secretary for International Chiropractic Pediatric Association
Mariah Wenglewski is from Knoxville, Tennessee. She studied Exercise Science at Lindenwood University, located in St. Charles, Missouri. While at Lindenwood, Wengleski played soccer and rugby, predictably dealing with sports injuries as part of that. Her then-boyfriend and now-husband Chance Wenglewski received an offer to play for Rugby ATL, which brought the couple to the Atlanta area.
Mariah Wenglewski spent her first year in Georgia as an exercise specialist working to help Coca-Cola employees stay healthy on behalf of Plus One, a company that provides health, wellness and fitness services. Shortly after that, she dove feet-first into the D.C. program at Life University (Life U). Yet the factors that led her to a career in Chiropractic go much deeper.
At age 17, Wenglewski was diagnosed with Postural Orthostatic Tachcardia Syndrome (POTS), a blood circulation disorder that can cause a patient to experience fainting, lightheadedness and other worrying symptoms. As a result of POTS, Wenglewski spent a lot of time living with fatigue and attempting to relieve these symptoms. When Wenglewski and her future husband arrived in Atlanta, it seemed like there was a chiropractic office around every corner. In fact, her partner's coach was a chiropractor, and many of his teammates were in the D.C. program at Life U. So, it became a common thread that people suggested to Wenglewski, to see a chiropractor and to see if chiropractic care could help her.
"I was kind of skeptical. I had never heard [of Chiropractic] from any MDs … the things that we are used to hearing as students," admitted Wenglewski.
Despite her skepticism, Wenglewski received her first chiropractic adjustment from her friend and Life U Alumnus Dr. James (Jamie) Ferrante. She reports little to no episodes of passing out since starting chiropractic care. As she continued to go into her chiropractic appointments, her curious mind would prompt her to ask about everything that Dr. Ferrante was doing and how it was making her feel better, to the point where he simply said she would have to study it herself.
"A light bulb went off, and I realized I have to do this for other people and help other people in the ways that Dr. Ferrante has helped me," said Wenglewski.
Coming full circle, Wenglewski now works in Dr. Ferrante's office in Kennesaw, Georgia as a Chiropractic Assistant (CA). She has been learning administrative behind-the-scenes work as well as the basics of patient interaction and having the chance to observe adjustments.
"Working as a CA keeps my sights set on what Chiropractic is going to be like," elaborated Wenglewski. "[…] Seeing patients be treated on a daily basis keeps my motivation high, in terms of getting through school, getting through this program and seeing what else is out there when I graduate."
Wenglewski enjoys the constant interaction with her on-campus peers, building personal and professional relationships, which will serve her well in her future profession. She is also building these vital relationships beyond the classroom through her efforts as a Secretary for Life U's chapter of the International Chiropractic Pediatric Association (ICPA).
"What we do as a club is we introduce speakers from the ICPA. They give us amazing insight on the ICPA series they have been through. [Pediatric Chiropractic] is definitely a specialty, I will tell you," said Wenglewski. "We bring in speakers from all over the country that give us their knowledge, from building a pediatric practice to pediatric examinations, different categories of pediatrics that we might not see in school."
The student ICPA connects students to information about the ICPA seminar series and certifications that students can use to further explore and become proficient in this specific interest. The doctors also often demonstrate techniques to club students using baby dolls and allow students to safely practice as well.
Wenglewski is still in the early days of her chiropractic education, but she hopes to pursue pediatric chiropractic or a family-based practice when she graduates. That said, with her athletic background, she doesn't rule out working within sports chiropractic, especially since children in sports often require chiropractic care as well.
Faces of LIFE is a story campaign that showcases members of the dynamic Life U community, including faculty/staff, students, alumni and health science professionals. Interested in being featured or nominating a candidate? We want to hear from you! Email Marketing@life.edu. Read more Faces of LIFE stories.
Related posts