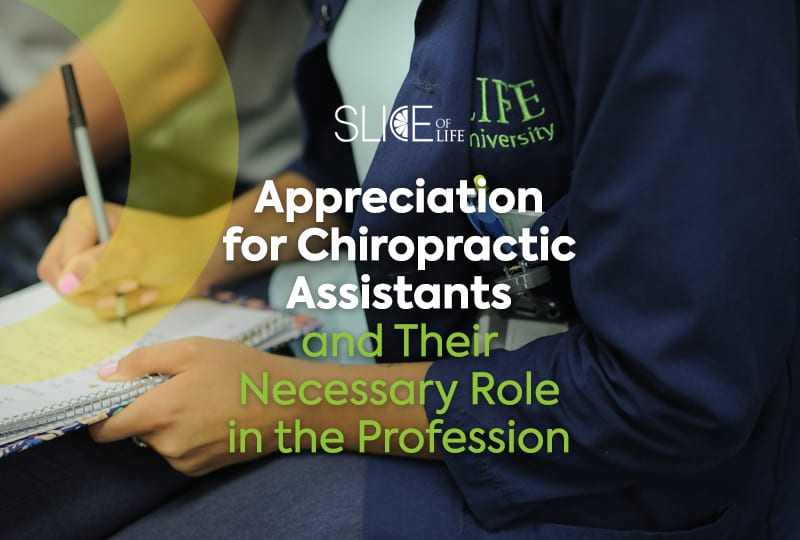 Do you want to know if the chiropractic profession is right for you, but you're not sure yet about enrolling in a D.C. program? A great way to answer this question is to consider working as a Chiropractic Assistant (CA). This will give you a comprehensive introduction. Many students in Life University's (Life U) D.C. program once worked as, or currently work as, CAs because they have the opportunity to work in a real-life chiropractic office and gain tangible business experience at the same time. 
One great story of a Life U student working as a CA and later working toward become a chiropractor comes from Student Ambassador Cheyanne Nance-Butler.
After working for a few years and searching for the right fit, Nance-Butler landed what she thought was "just another office job," but in reality, it was a CA role under the supervision of Life U alumnus Dr. Jared Jodon. Dr. Jodon's practice is Jodon Chiropractic Clinic, located in Ridgeland, South Carolina.
Working in a chiropractic environment helped to open Nance-Butler's world up to new possibilities in health care.
"On Day two of working for [Dr. Jodon], after he had explained the principles of Chiropractic and the idea of Vitalism to me, it all kind of clicked and fell into place. I thought 'Whoa, this is the kind of doctor I was meant to be.' Probably two or three months after that, I was seriously considering chiropractic school," Nance-Butler said.
In Chiro Match Maker's article  "Four Reasons to Consider Working as a Chiropractic Assistant," the text unpacks what CAs do and why they are an integral part of many chiropractic practices. Like any other business, the duties of a CA will vary depending on the needs of the specific practice. They do not treat or diagnosis patients but instead make sure the office runs smoothly by scheduling patients and filing billing procedures. A large portion of a CA's job is administrative, replying to emails, sorting mail, answering phones, ordering supplies and the like. Some CAs might be put in charge of updating social media accounts for their office.
Depending on the dictates of each state, chiropractors may have assistants complete basic medical tasks if these tasks are within the scope of appropriate practice regulations for that state. A CA might take X-rays, explain procedures to patients as appropriate, take vitals and maintain medical records. CAs have to learn basic relevant medical terminology to do their job correctly, as well as communicate well with patients and with co-workers.
Becoming a CA can mean better job security, as the chiropractic profession only continues to grow by the day. It can also mean working in a positive work environment, as CAs work often in small-to-medium size private practices in a team of qualified individuals dedicated to providing patients the best care possible. It's common to experience a sense of camaraderie and a shared sense of values related to the work that makes it enjoyable to return to work each day. CAs also often get to build relationships with patients and work on the social, forward-facing aspects of patient care. Lastly, as a CA, you can have a life-changing impact on patients through helping a chiropractic office succeed without the many years of schooling required to obtain a D.C. degree. Yet of course, working as a CA can also be a great steppingstone to becoming a chiropractor. And for those interested in learning more about Life U's unparalleled D.C. program, please visit life.edu/academic-pages/chiropractic-program/doctor-of-chiropractic.
Slice of LIFE is an invitation to and extension of everything happening at Life University. Whether you are a current student, a potential freshman or a proud alumni, Slice of LIFE can help keep you connected to your academic community. Know of a compelling Life U story to be shared, such as a riveting project, innovative group or something similar? Let us know by emailing Marketing@life.edu.
Related posts