Marietta, Georgia, May 7, 2021 – The 8th Annual Scramble for LIFE golf tournament to benefit Life University (LIFE) scholarships will take place on Thursday, May 13, 2021 at City Club Marietta, located at 510 Powder Springs Street in Marietta, Georgia. Registration begins at 8:00 a.m., and a shotgun start is scheduled for 9:00 a.m.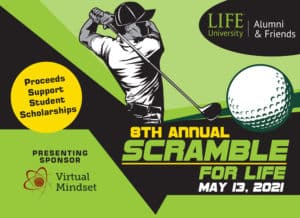 "Scramble for LIFE is a great way for the University to connect with the local business community and our alumni and friends. Virtual Mindset is this year's presenting sponsor with additional sponsorships available," said Derek Herron, Senior Development Officer in LIFE's University Advancement Department
All proceeds go to support student scholarships with more than $30,000 raised in the past two years alone. LIFE offers a variety of scholarships to its undergraduate, graduate and Doctor of Chiropractic students, in addition to external scholarship opportunities.
At least 70 golfers are registered to play this year. For the first time ever, Scramble for LIFE is offering a virtual option for teams who are unable to participate in person. Teams may register for the event and play a round at City Club Marietta before May 12 and upload their scores for the leaderboard. Additional details about Scramble for LIFE, including how to register, are available at LIFE.edu/Golf.
The following companies and organizations are sponsoring Scramble for LIFE:
Virtual Mindset
Pepsi
American Black Chiropractic Association
Georgia Chiropractic Association
Georgia Council of Chiropractic
Peachtree Pest Control
Roof Partners
Standard Process
100 Black Men of Atlanta
Art Plumbing Company
Davis Commercial Laundry Solutions
K. Rubke & Co.
United Community Bank
Carnes Contract Floors
Founded in 1974, Life University is a health sciences institution most known for its Doctor of Chiropractic (D.C.) program, the largest single-campus chiropractic program in the world. LIFE also offers 14 undergraduate degrees, as well as a pre-chiropractic, degree-seeking pathway. Three graduate degrees are available, encompassing areas of sport health science, clinical nutrition and positive psychology. Some degree programs are offered to distance learners through the College of Online Education.
Life University strives to empower its students to succeed both professionally and personally. LIFE advances a leading-edge approach to higher education while also remaining true to the University's philosophical commitment to produce informed leaders who exemplify humanistic values in their professions. To achieve this goal, LIFE recognizes and demonstrates its dedication through three official Life University Values: Lasting Purpose, Vitalism and Integrity.
LIFE's 110-acre campus just northwest of Atlanta is home to more than 2,800 undergraduate, graduate, and professional students who come from all 50 United States and more than 45 countries.
For more information on Life University, please visit LIFE.edu.
Related posts