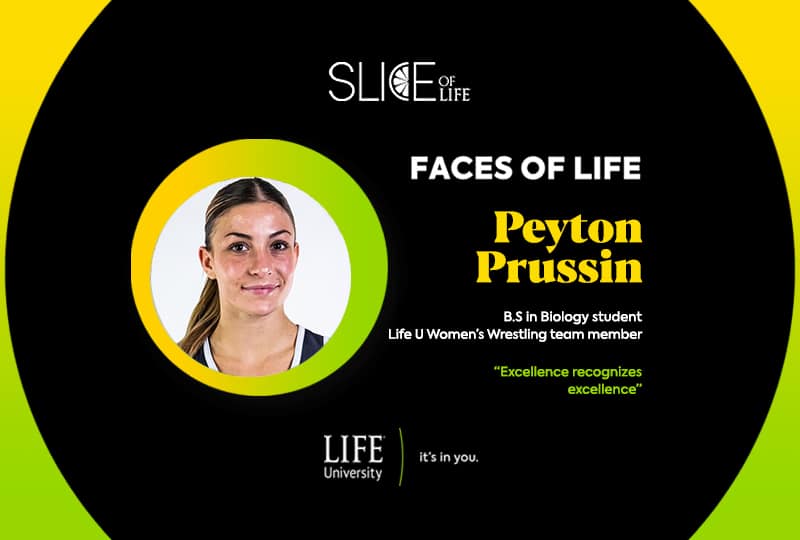 B.S in Biology student | Life U Women's Wrestling team member
"Excellence Recognizes Excellence"
Born and raised in Las Vegas, Peyton Prussin has lived the life of a determined student athlete for a long time, having competed in High School Girl's Wrestling for Arbor View High School for four years. According to an Athlete of the Month spotlight in NVSportsLocal, Prussin became the first female to qualify for the Boy's 4A State competition in Nevada, in her sophomore year. Other accolades include being a 10-time High School All-American, as well as a 2018 Fargo Runner-Up, 2018 Folkstyle Runner-Up, 2018 Cadet World Team Trial Runner-Up, placing third as the 2018 Yoshida Saori Cup in Japan, 2018 USA High School Wrestler of the Year Finalist, 2018 USA National Team member and 2019 Folkstyle National Champion.
In her interview with Life U marketing, Prussin described what led her to become a Life U Running Eagle. On the heels of her success in high school wrestling, placing well in national tournaments in her senior year, that's when she started to receive offers and interest from several collegiate coaches. But the coaches at Life U had already recognized her potential and reached out even before she started placing high, so Prussin appreciated those early efforts. Additionally, as Prussin is from Las Vegas, the schools in that area that had a women's wrestling program tended to be more rural and Prussin desired a university experience that was more well-rounded so Life U's location in Marietta adjacent to Atlanta held much appeal.
Prussin is a valued member of the Life University (Life U) Women's Wrestling team in the 116 position. Her first year started off rocky, with a Lisfranc injury in the foot characterized by misplacement of metatarsal bones. The injury put her on the bench for most of her initial season with Life U.
"After coming back from an injury, your style of wrestling might not be the same, and having to learn from the start can be very challenging. I continue to trust the process and continue to enjoy what I do. I was blessed to have had a quick recovery from this injury," said Prussin in her spotlight for NVSportsLocal.
Despite the bumpy start, Prussin continues to come out victorious. She earned her second-straight title at the NAIA National Invitational in March 22. Prussin has enjoyed being able to grow with a team and an athletics staff that has her back. But it's not all studying and time on the mat for Prussin.
"I like how the school is small but there is a lot of different opportunities, activities and clubs, lots of sports teams. Honestly, I like the athletics a lot. Everything with the athleticsis well done — everything from the coaches, the teams, the athletics staff. They do a good job to make you feel like you are taken care of and you're special," said Prussin.
This summer she interned with the U.S.A Rugby World Cup to learn more about sports medicine. In the future, Prussin hopes to take the knowledge she has learned as a B.S in Biology student and apply it towards becoming a physician's assistant or a dermatologist.
This article was originally published in Your Extraordinary Life (YEL), Life University's Alumni and Friends Magazine, 2022- Volume 15. YEL started in 2009 as a twice-per-year publication before moving to three issues per year from 2010-2017. In 2018, University leadership made the decision to publish a larger, more elegant version of the magazine just once per year that our alumni and friends could be proud of. YEL features an in-depth look at all things Life University, from alumni and student human interest stories to recaps and previews of the University's biggest events. If you are a proud Life University alumni, friend or supporter, this publication is one you can't miss!
Read the latest issue and past issues at this link or pick up a print copy on campus.
*Note- After the original publication of this piece, Prussin experienced a notable achievement as she signed a deal to be part of WWE's Next In Line program. Read more about that here. 
Related posts