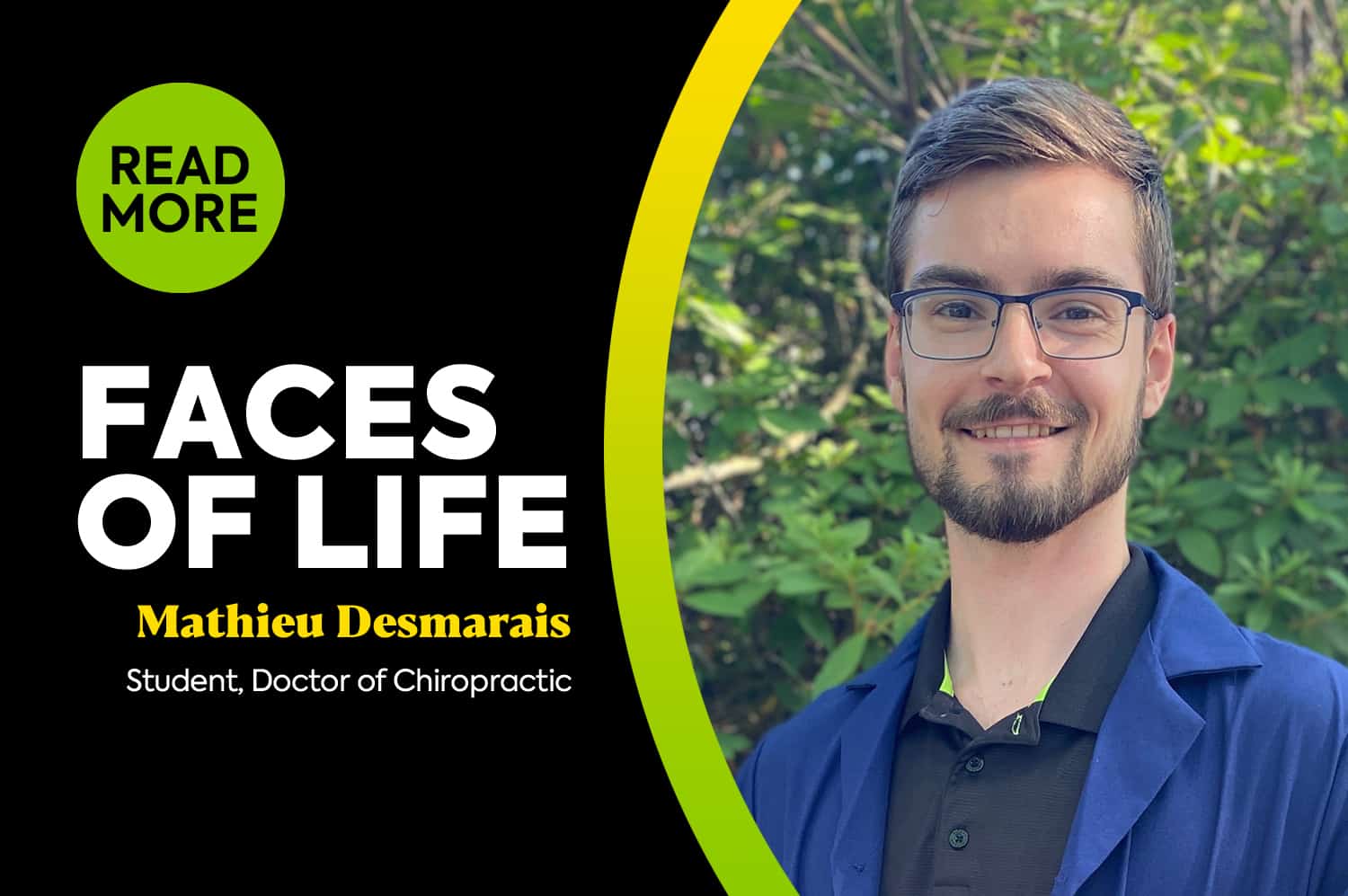 Mathieu Desmarais
"Canadian Chiropractic"
Student: Doctor of Chiropractic
September 2021
Mathieu Desmarais is a Canadian from Winnipeg, Manitoba who comes from a family of chiropractors. "Both of my parents are chiropractors, and I basically grew up in their practice. So, it's always been a love of mine, and I've always enjoyed connecting with people."
Desmarais decided that Life University was the right choice for his education because of the philosophy and community of Chiropractic that surrounds the campus. "The technique clubs, the large student body and the weather isn't bad either." He is currently studying to become a Doctor of Chiropractic to carry on the family legacy.
Life University's Doctor of Chiropractic (D.C.) degree is a rigorous, 14-quarter program that typically takes students four years to complete. The curriculum structure is logical and sequential, combining hands-on training and academic rigor. This develops students into highly-skilled chiropractic healthcare clinicians.
"I am not the same version of myself that I was when I began school here," Desmarais shared. "I am definitely more capable, more able. I have a lot more knowledge but also so much more to learn." From the world-class faculty to the beautiful campus, Desmarais feels like his time at Life U has been amazing.
The Functional Neurology Club and Applied Kinesiology Club are two of the primary ways Desmarais has been involved on campus. The Functional Neurology Club is an assembly of students and healthcare practitioners dedicated to providing the greatest level of service to humankind. They learn, practice and teach how the nervous system functions and how it responds to a variety of specific neurologic interventions including vestibular rehabilitation, sensory-motor training, the chiropractic adjustment and much more. The Applied Kinesiology Club focuses on a Chiropractic technique using muscle testing to navigate the assessment and treatment of the patient while addressing the structural, chemical and emotional components of the vertebral subluxation.
"Enjoy where you are at. So, be present in the moment; that is part one, because I think it makes the experience worthwhile," he shared. "But also, know how you learn, because that is going to stay with you forever, and it will definitely get you through chiropractic school."
LEARN MORE:
Faces of LIFE is a story campaign that showcases members of the dynamic LIFE community, including faculty/staff, students, alumni and health science professionals. Interested in being featured or nominating a candidate? Email Marketing@LIFE.edu. Read more Faces of LIFE stories.
Related posts