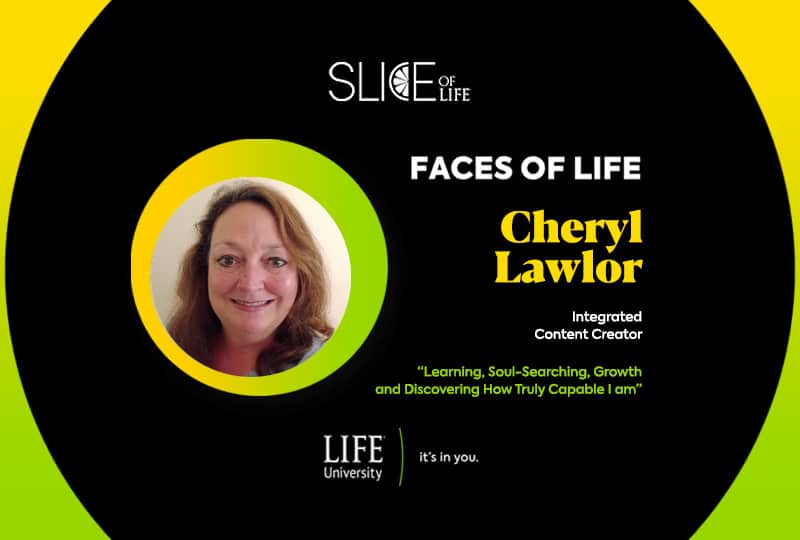 Integrated Content Creator
"Learning, Soul-Searching, Growth and Discovering How Truly Capable I am
Cheryl Lawlor's story at Life University (Life U) is a fascinating one filled with self-transformation, as well as personal and professional development. Lawlor grew up in New Haven, Connecticut where both her parents were from, and she currently lives in Branford, Connecticut, having moved back to the area in October 2021 to spend time with her mother.
Lawlor enjoys living in the small coastal town with "its little shops and restaurants" where she can walk to a lot of places, relishing family time and the amusing antics of the three cats in the house (Gigi, Midnight and Luke).
Lawlor has worked for Life U for five years in total, with some breaks in between and a few different role changes. When Lawlor first came to Life U, she worked part-time for the CGUS Associate Dean Dr. Michael Smith before working with a friend to create her website and market her products at the Moroccan Spice Company as a Marketing and Public Relations Consultant. In 2017, she was going through a divorce and reentering the workforce after raising her children for many years. She contacted Dr. Smith to see if he would be willing to give her a reference as she ventured into her new world. He not only gave her a reference, but also gave her great spiritual guidance and support during this difficult time.
Lawlor really hit her stride at Life U in January 2018 as a Professional Relations Coordinator, an all-hands-on-deck events professional that people came to rely on to help big Life U events go smoothly. The major events that she was working to help organize included the LIFE Vision Seminars three times each year, the annual Fall CElebration (renamed Life Vision Extravaganza) and each quarter's three Chiropractic Assemblies.
She eventually was promoted to Project Manager to the Vice President of University Advancement and Enrollment Dr. Gilles LaMarche. Her new role still involved a fair amount of event planning, while also ensuring that Dr. LaMarche had everything he needed to accomplish so many great projects and campaigns through the University Advancement office. Dr. LaMarche served as a mentor to Lawlor, and she looks back on that time working directly for him with fondness and gratitude, but after almost four years in that role, she found that she needed a change of pace and a role that suited her passions.
In 2021, Lawlor moved to Branford to be close to her mom and figure out the next stage of her life. She worked for herself for three months doing contract work as a communications professional, often for the Life U Marketing Department. It was a natural fit, as Lawlor's degree is in Journalism, a B.A. from Southern Connecticut State University. Her talents and interest in writing and communications had served her well over the course of her career, but these skills were about to be utilized in a much more intentional manner. When the role of Integrated Content Creator opened on the Life U Marketing team and was offered to her, Lawlor accepted with a fair amount of excitement. And since Marketing primarily works remotely, Lawlor had found the perfect way to keep connected to her Life U family without having to uproot herself.
"I love to write and to be able to spend the majority of my time writing. It has been such an amazing experience with the Marketing team and in particular the Communications Division. Everyone in Marketing really has your back!" said Lawlor.
It's a bit of an adjustment, from working on-campus to working full-time at home. It's nice, of course, to cut out the commute and to have flexibility, but Lawlor does miss that in-person aspect at times.
"I miss people, that communication, that connection. I love what we are doing now with Zoom; it's another way to connect. But I do miss going into an office," said Lawlor.
Lawlor has been full-time in the Marketing team since January 2022 and has already worked tirelessly toward several vital projects.
"It was wonderful to see the YEL [Your Extraordinary LIFE 2022] edition. To see what we've done and how they take that into a concrete, solid piece – I really loved seeing that," explained Lawlor.
Lawlor and the rest of the Marketing Department, as well as several other departments at Life U, spent months putting together compelling articles and information that were published in the 2022 edition of the Life U Alumni and Friends magazine. In particular, Lawlor has enjoyed the Life U community seeing the research spotlights that she worked on, articles that are also shared in a series on the Living.Life.edu blog as well. In general, Lawlor is eager to continue lending her talents to the Marketing team and seeing Life U's growth in the coming years.
"My time at Life U has been wonderful. It coincided with a personal journey for me when I was going through my divorce and needing to start working again […] It was scary. […] It was a lot of learning, a lot of soul-searching and a lot of growing. I didn't realize that I was capable of doing all that I was doing," reflected Lawlor.
Lawlor knows the power of words. During her time at Life U, she decided to legally change her name from her ex-husband's, yet she did not simply revert back to her maiden name of Jarmie. However, she decided to make the change to her family's Irish ancestral name of Lawlor as it reminds her of the strong, capable family that she comes from and better represents her path now. So now, Cheryl (Jarmie) Lawlor looks forward to a bright future inside and outside of her work with Life U, bravely working toward the next positive steps in her journey.
Slice of LIFE is an invitation to and extension of everything happening at Life University. Whether you are a current student, a potential freshman or a proud alum, Slice of LIFE can help keep you connected to your academic community. Know of a compelling Life U story to be shared, such as a riveting project, innovative group or something similar? Let us know by emailing Marketing@life.edu.
Related posts