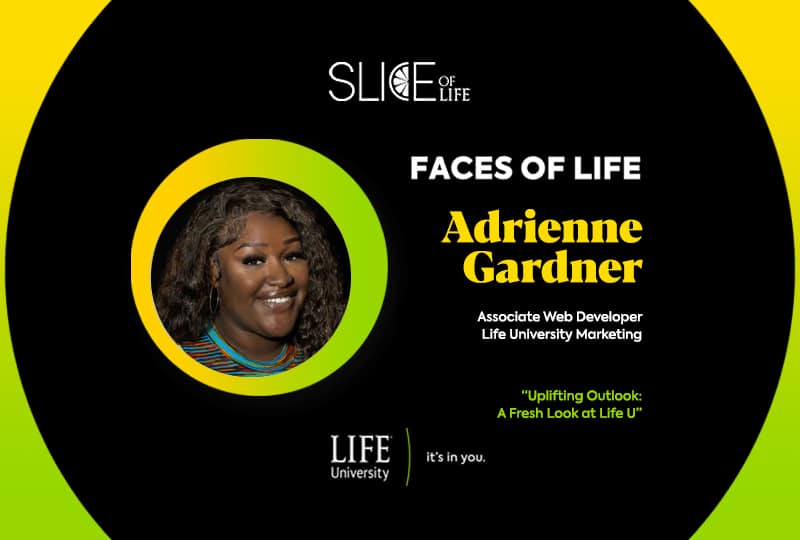 Associate Web Developer, Life U Marketing
"Uplifting Outlook: A Fresh Look at Life U"
Adrienne Gardner was born and raised in Swainsboro, Georgia.  She attended Georgia College in Milledgeville, Georgia where she received her bachelor's degree in mass communications with a minor in theater.  Her father has passed away and her mother still lives in Swainsboro with her teenage brother Gabriel.
This is her third job since graduating from college.  She previously worked in the fast-food industry and as a video production manager for a small marketing company before coming to Life U in March of this year.  Gardner saw this job on Indeed and applied but wasn't sure that she wanted to work for a university.  Since she is only a few years out of college, she didn't know if she wanted to be back in a university environment.  Gardner was looking for a faster paced environment, but interview with the Executive Director of Marketing, Shelly Batcher sold her on the position.
"And then I met Shelly, she is so amazing!  I knew I wanted to work at Life University because of Shelly and because of her attitude, and I just really believed her and everything she said as far as working with her, working with the team, how nice you guys were.  After all the interviews, I just knew for sure.", said Gardner.
Since working at Life U, these past few months, she has come to realize that she appreciates and better understands the need for all of the checks and balances before proceeding ahead with a project instead of quickly creating an idea and forging ahead with it right away.  Gardner also appreciates the work life balance that Life U offers with out intense stress.  She loves working hard, but didn't realize how stressed out she was before working at Life U.
Day one at Life U was very positive.  Gardner found great benefit in the Orientation session and was excited to begin working. She also enjoys the remote work because it gives her that quiet space and it is teaching her how to be self-sufficient.  Her position also brings her on campus on a regular basis, giving her the opportunity to work with many people from many different departments.  This combination of hybrid work is very satisfying.
Previously, Gardner gained many skills working in her video production position.  At that job, she was able to learn and hone many skills including navigating TiK ToK and flying a drone.
"At my last job, it really opened up the creative doors for me to try new things and TiK ToK was one of those things that was up and coming and I caught a quick grasp for it.", said Gardner. "What I am excited here at Life U is that I am able to put those skills to use and its beneficial and for a greater good rather than 'just because we can do it'."
Gardner currently helps the marketing team with the university website and web pages, she creates and edits videos and is learning how to work the podcast studio.  She loves focusing on her position right now so that she can develop a greater understanding of her role within the marketing department. One of the many benefits Gardner enjoys at Life U is the Faculty Staff Development Program (FSDP) and is looking forward to attending in person in July.  For Gardner, it is a great time to meet more people, learn more about the university and to experience the sessions which offer personal learning opportunities.  She expressed how pleased she is to see the university investing in their faculty and staff through this program.
"There are so many benefits to working here, even the programs.  The Chillon Project was a highlight. I thought that was so cool.  I have never heard of any school in Georgia offering this.", said Gardner. "It's everything Life U offers, even the morals, that it sets upon.  It's a different place and environment from where I have worked at before.  It's definitely a breath of fresh air."
Gardner's words of wisdom to others would be to "give people grace day to day and give people room to mess up.  Give people the benefit of the doubt.  People are more surprising than what you would think.  Everything happens for a reason."
Faces of LIFE is a story campaign that showcases members of the dynamic Life U community, including faculty/staff, students, alumni and health science professionals. Interested in being featured or nominating a candidate? We want to hear from you! Email Marketing@life.edu. Read more Faces of LIFE stories.
Related posts