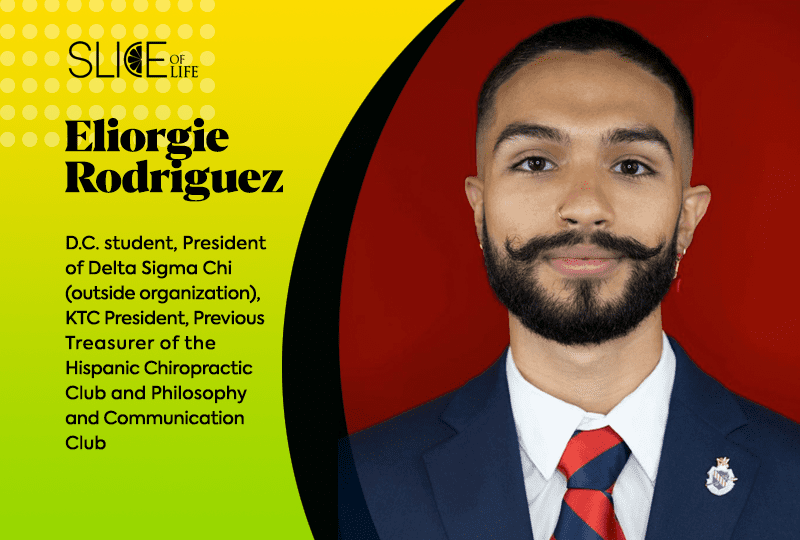 D.C. student, President of Delta Sigma Chi (outside organization), KTC President, Previous Treasurer of the Hispanic Chiropractic Club and Philosophy and Communication Club
What made your first quarter at Life U memorable? 
What was memorable about my first quarter was the amount of people going into a similar mindset and vitalistic method. Just so many people doing the best that they can to live the healthiest lifestyle they possibly can.
What surprised you during your first quarter at Life U?
The thing that surprised me the most was the quarter system and how fast it would literally go. People will tell you about it, but it is not until you actually experience it that you say 'OK, it is very fast.' And you have to organize and adapt.
You have held several leadership positions here at Life U. What can you tell us about those experiences?
Opening myself up to leadership positions has been more than humbling because they are actually about serving. […] It's about serving and having a community of like-minded individuals who have a similar goal.
I was a lonely person before coming to the program, but I decided to come and explore. And that has helped me to grow in such massive ways personally, physically, mentally and emotionally. Due to that, I have had the most amazing PEAK [student internship] experience, and I know I am going to be successful once I go out there because of those communities that I helped create and develop.
You are currently working through your PEAK Clinical Program. Tell us a bit about what that looks like for you.
The doctor told me that he doesn't normally allow students to adjust throughout the first couple of weeks because they have to learn the systems and all that. But because I already knew how to adjust, […] I didn't have to worry, thinking about how to adjust. Now I am focusing solely on learning the business aspect, the systems and how he runs everything.
It's an amazing experience because he is also bilingual, so I get to work with everyone in the Hispanic community and the English-speaking community.
What advice would you give to a new or prospective Life U student?
The advice would be to experience both life and Life U by their own lenses. Don't let anyone influence your decisions. If you want to go to a seminar, go to that seminar. If you want to go to a club, go to a club. Some people talk about how hard [board exams] are, but don't let anyone's experience influence yours.
[…] It's important to train yourself and your body so you don't get injured and to train your adjustments [when you get to that point in your program], so when you deliver an adjustment, it is the most in alignment with the philosophy, with the science and powerful at that time of actually delivering it.
My 1st Quarter is a campaign featuring students reflecting on their 1st quarter of studies at Life University and why it was so special and unique. All University students (undergraduates, graduates and D.C.) are encouraged to share their experiences in order to help those in future incoming classes get a real-life glimpse of what they can expect as they start a new chapter of their education journeys at Life U. If you would like to be featured or have a suggestion, email Marketing@life.edu.
Related posts