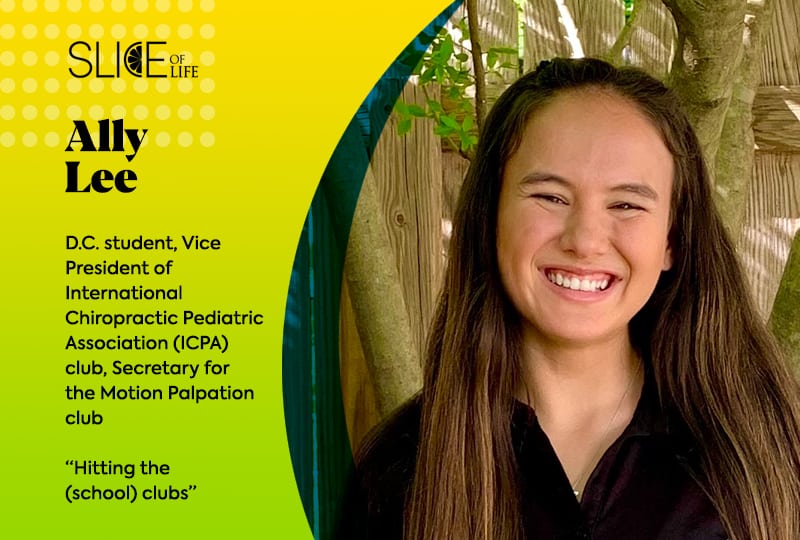 D.C. student, Vice President of International Chiropractic Pediatric Association (ICPA) club, Secretary for the Motion Palpation club
"Hitting the (school) clubs"
What made your first quarter at Life U memorable? 
Just getting involved. I tried every club imaginable. That was the quarter that I got to find out what I liked and what I didn't like. I got pretty involved from day one, and that helped me meet people that are still my friends today.
What surprised you during your first quarter at Life U?
How like-minded everyone else was because I grew up as a chiropractic kid, and when I was in elementary school, middle school and high school, other kids didn't really understand where I was coming from with the whole chiropractic lifestyle.
Coming into this environment where [the chiropractic lifestyle] is normal, that is kind of cool and interesting. It's something I didn't expect to see as much as I have.
You currently hold a few different leadership positions here at Life U, with your club memberships. What can you tell us about those experiences?
I'm Secretary of the Motion Palpation Club. It's a hands-on technique club, and it's one that resonated with me from day one. In the D.C. program, we always talk about palpation as the basis of every technique, so getting really good at that is something that I valued in my time here.
I am also Vice President of ICPA club. That is a pediatric and perinatal-focused club. Going into school, I knew I wanted to work with that population. We get to connect with doctors in the ICPA community and learn about different topics related to taking care of people in the pediatric population, pregnant moms and post-partum, all that stuff. I really like that a lot.
What advice would you give to a new or prospective Life U student?
If you are thinking about coming to Life U, I definitely think that [the D.C. program] is a unique program in the sense that there are so many different opportunities in the extracurricular world. The other schools I connected with just don't have as many options as we do, so having 100+ clubs at Life U is definitely something that I liked when I applied and then I liked when I got here.
In the first quarter, get involved as early as you can because I meet a lot of first quarter students who say they are too busy to do extracurricular – they are trying to focus on the school part and get that underway, which is fine. School is important, but what I tell them is 'You think you're busy now, but just wait until you are in 5th, 6th, 7th quarter.' It's never going to ease off, so get involved early on, and it becomes kind of routine. It also reminds you why you are doing the school part, a good reminder of the reality of what you are doing.
My 1st Quarter is a campaign featuring students reflecting on their 1st quarter of studies at Life University and why it was so special and unique. All University students (undergraduates, graduates and D.C.) are encouraged to share their experiences in order to help those in future incoming classes get a real-life glimpse of what they can expect as they start a new chapter of their education journeys at Life U. If you would like to be featured or have a suggestion, email Marketing@life.edu.
Related posts