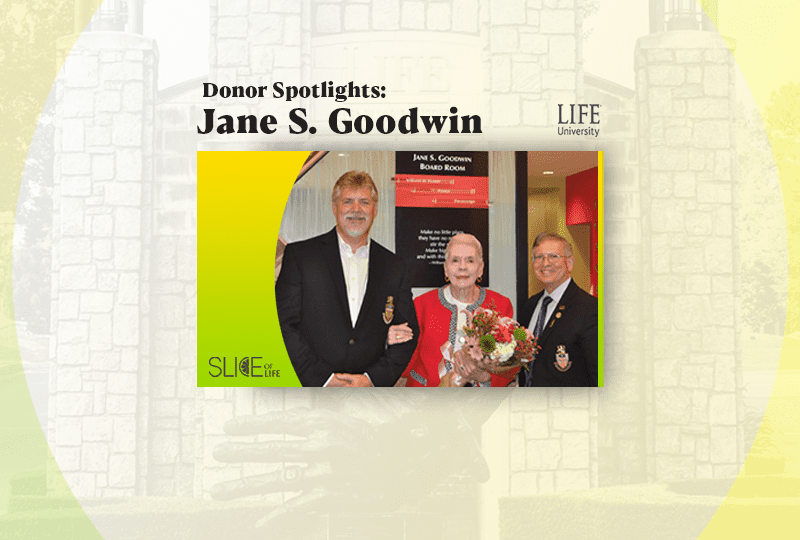 Jane S. Goodwin
FRIEND OF LIFE U, WILLIAM M. HARRIS FAMILY FOUNDATION
On September 15, 2022, Mrs. Jane S. Goodwin was recognized by Life University (Life U) with the "Mrs. Jane S. Goodwin Boardroom Dedication." The beautiful plaque naming the boardroom for Goodwin in the Dr. William M. Harris Center for Clinical Education was unveiled that day, honoring her dedication and service to Life U. Through the William M. Harris Family Foundation, which Goodwin heads, Life U has received many generous contributions over the years benefitting areas such as research, scholarships and facilities. Goodwin has served the William M. Harris Family Foundation for the past 14 years and previously worked for Dr. Harris as his executive assistant for 10 years.
"It was lovely and totally unwarranted," said Goodwin regarding the dedication. "I could not believe there were that many people there. I was very surprised. It was lovely to see people I had not seen in years because, going back and forth to Life U, you see a certain number of people, but you don't see all the people you know, so it was great. Particularly Bill Jarr because I've known Bill for years, and it was great to be able to see him. The food was delicious, and the flowers were gorgeous."
In particular, Goodwin noted her amazement at the flowers given to her by Dr. Gilles LaMarche, Vice President of University Advancement and Enrollment.
"I don't know where he gets them, but they are always fantastically beautiful, and they last forever," Goodwin said.
The William M. Harris Family Foundation Annual Meeting was held the same day as this dedication. Life U was well represented on this occasion with Dr. Gilles LaMarche, Dr. Rob Scott (President of Life U), Dr. Kevin Fogarty (Life U Chairman of the Board of Trustees), as well as Dr. Jay Handt and Dr. Leana Kart, both members of the Life U Board of Trustees, in attendance.
Goodwin moved to Atlanta, Georgia with her husband shortly after his retirement and learning that they were soon-to-be grandparents. After purchasing a house and setting up the move and renovations to their new home, Goodwin found that she needed more to do, so she applied for the job with Dr. William M. Harris as his assistant. At that time, she worked on the Foundation for the Advancement of Chiropractic Education (FACE), an organization that Dr. Harris had founded in the 1980s. In 2007, Dr. Harris decided that he wanted to reformat this organization to a charitable organization, and thus, the William M. Harris Family Foundation was born. This organization donates 75% of its charitable contributions to the chiropractic profession, particularly in support of chiropractic education, and 25% goes to other charities – a formula create by Dr. Harris that is still honored today. Dr. Harris passed away in 2008, but Goodwin and the foundation's board continue to carry on his good works and lasting legacy.
This article was originally published in Your Extraordinary Life (YEL), Life University's Alumni and Friends Magazine, 2022- Volume 15. YEL started in 2009 as a twice-per-year publication before moving to three issues per year from 2010-2017. In 2018, University leadership made the decision to publish a larger, more elegant version of the magazine just once per year that our alumni and friends could be proud of. YEL features an in-depth look at all things Life University, from alumni and student human interest stories to recaps and previews of the University's biggest events. If you are a proud Life University alumni, friend or supporter, this publication is one you can't miss!
Read the latest issue and past issues at this link or pick up a print copy on campus.
Related posts