LIFE UNIVERSITY'S LIFEFORCE TRIBE INVITES NEW MEMBERS TO JOIN ITS PRINCIPLED CHIROPRACTIC RANKS
Marietta, Georgia, July 16, 2019 – Life University's premier chiropractic membership organization, LIFEforce, invites all who champion principled, vitalistic Chiropractic to join its ranks to help make positive changes to modern health care.
Life University is known as the not-so-little University that is changing the world, and as such they offer a pre-eminent vitalistic healthcare education that includes their esteemed Doctor of Chiropractic (DC) degree program.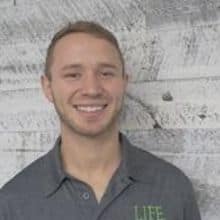 Kain Queck
"I always planned to become a chiropractor," states Doctor of Chiropractic student Kain Queck. From Fontanelle, Iowa, Queck holds an undergraduate degree in Biology from the University of Northern Iowa. He says that he originally decided to attend school there since it offered a dual-enrollment program with Palmer College of Chiropractic, but after speaking with several practicing chiropractors, they all referred him to Life University for his chiropractic studies.