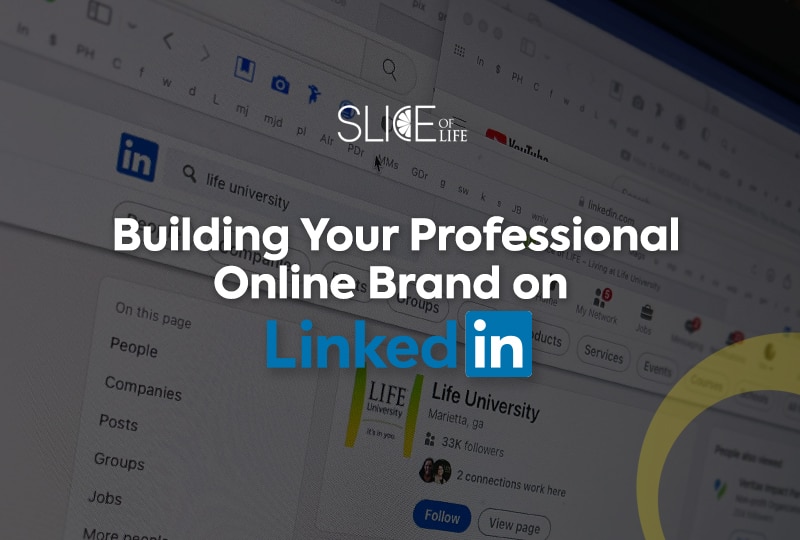 Building Your Professional Online Brand on LinkedIn
For students embarking into the professional world, LinkedIn is an excellent way to connect with valuable contacts, recruiters and opportunities. Dedicating a little bit of time each week to keeping a LinkedIn profile up to date can help you network with employers and professionals in a convenient and accessible format.
How LinkedIn Benefits College Students
Early Earner points out valid reasons why college students should invest some time on a robust LinkedIn profile in their article "8 Benefits of LinkedIn for College Students (2022)."
Résumé building- Your LinkedIn profile functions as a kind of living résumé. It is easy to update and change, and spicing it up with links relevant to your work and experience where appropriate helps. If you allow for recruiters to access your profile in the platform, they can quickly locate your profile and shortlist you for relevant opportunities.
Network with professionals- With LinkedIn, it is simpler than ever before to search for and connect with professionals in a desired industry or field. Make a point to make connections with these professionals, particularly those that live or work close by, to perhaps schedule an informational interview coffee meet-up, as appropriate. Within the platform, you can send a private message to most people, or if they do not accept messages from people they have not yet accepted a connection request from, you can send them a connection request with a short message explaining your reason for reaching out.
Learn about job and internship openings- LinkedIn has a handy job search platform built in the site that typically allows you to search for and apply to many pertinent internships and jobs quickly and easily.
Hone practical skills- If you feel that you need to gain more marketable skills to prepare for the workforce, LinkedIn has you covered. They offer courses, tutorials, assessments and groups for a wide range of topics. Interview preparation and job seeker resources are also available.
Employers can find a professional way to connect online- Just as LinkedIn makes it easier for you to find employers, employers can also find you for professional purposes.
Keep up with other college students and alumni- College is the time to begin to cultivate a professional and personal network. Get connected now with peers on LinkedIn, so you can help each other in your career journeys. Connect with alumni who may have opportunities they can introduce you to.
Dig deeper into companies of interest- The most detailed and relevant public information about favorite companies of interest can typically be found on LinkedIn. Learn more about job opportunities, the hiring process and see who works there to seek a referral.
Getting Started
LinkedIn provides excellent guidelines on how to build out your profile in their article "Building a Great Student Profile."
Step 1: Write a profile headline that is informative and engaging. The headline is the sentence directly below your name and profile picture that tells people a bit about where you are in your professional journey. It is especially important to keep this up to date, as it is the first thing profile visitors look at. If you have current/recent job experience and/or educational experience to include, it can help to give your headline more resonance. Don't worry though if you feel like you do not have as much tangible experience to put in a headline. It is perfectly acceptable to use your headline to designate the kind of opportunities you are interested in.
For example, a student profile with job experiences to point to might read "Chiropractic Assistant at XYZ Office, D.C. student at Life University." A student profile searching for opportunities might read "D.C. student at Life University seeking future associate opportunities."
Step 2: Smile for the camera! A professional photo for your profile picture is crucial. It needs to be a high-quality photo of you alone, dressed professionally.
Step 3: Tell the world about yourself and your accomplishments. List the schools you have attended and that you currently attend. List your major(s) and minor, courses and study abroad or summer programs. Don't be bashful about your accomplishments; share them. LinkedIn is the place to list a good GPA, test scores, honors and awards.
Step 4: Create a professional summary. This is listed in the "About" section of a LinkedIn profile. It should resemble the first few paragraphs of a well-written cover letter. It should read as confident, direct and concise while highlighting your qualifications and goals. Be sure to include relevant work, extracurriculars and volunteer experiences if it makes sense to do so. Reference profiles of respected mentors for ideas.
A good template to start with would look something like this:
"I am passionate about (list 3 to 5 skills), and I have used these skills effectively in my role as a (list job or relevant experience). (1-2 short examples of how you demonstrate some of those skills). My professional intention is to continue to grow my valuable skillsets while I remain eager to learn new ones as exciting opportunities come my way."
Step 5: Keywords are, well, key. The skills section, as well as your professional summary and your listed job experiences must include searchable keywords that will help recruiters and colleagues find your profile. Take the time to create and list at least five keywords to sprinkle throughout your profile. If you have trouble coming up with them, go online and use a keyword search tool for ideas.
For example, a B.B.A. in Business Administration student could use the keywords business, business administration, business management, entrepreneurship or corporate responsibility. The key is to make sure that the keywords you select are easily searchable and relatable to you.
Step 6: Make a point to be active on the platform at least once a week, posting regular updates to stay on the radar of your network and build up a professional reputation online. Mention passion projects of yours or your peers, professional books or articles of interest, or professional events you are attending. The LinkedIn algorithm tends to reward those that comment on and share other people's relevant content as they seek to foster an intelligent dialogue, so join in on the conversation!
Step 7: Connect with interest groups and professional groups that support your goals. It's a more targeted way to reach like-minded people, learn new things and gain access to opportunities and resources.
Step 8: Seek detailed recommendations. This is not to be confused with endorsements, which are just a quick way for people on LinkedIn to say "This person does have skills in Marketing" or whatever the case may be. Recommendations are typically a paragraph long summary of a person's professional interactions with you, giving others an idea of your skillsets and personality. You can request recommendations through the LinkedIn platform, but be selective in who you ask. It should be someone who knows you well in a professional capacity, someone with a good reputation that can accurately speak to your abilities. 
Step 9: Claim your own LinkedIn URL. When a LinkedIn profile is created, there is a URL created with it that is just the name and a random string of numbers. It's not attractive or easily shareable. To change the URL to something more user-friendly, you need to navigate to your profile page. You can do this by clicking on your name and picture.
When you are logged into your account, there will be a section on the right side that says "Edit public profile and URL." After clicking that, you will see "Edit URL." After that, type in what you would like the URL to be. Typically, it will be the standard website link that everyone must have followed by your name, so something like www.linkedin.com/in/johndoe.
If you have a common name, the exact phrasing you want might not be available, but you can do different things to make it work, such as adding a middle initial.
Step 10: Show off your work. One major benefit of LinkedIn as opposed to a résumé alone is the ability to share writing samples, design work or other accomplishments on your profile in rich media or documents. It's like a digital portfolio!
Slice of LIFE is an invitation to and extension of everything happening at Life University. Whether you are a current student, a potential freshman or a proud alumni, Slice of LIFE can help keep you connected to your academic community. Know of a compelling Life U story to be shared, such as a riveting project, innovative group or something similar? Let us know by emailing Marketing@life.edu.
Related posts