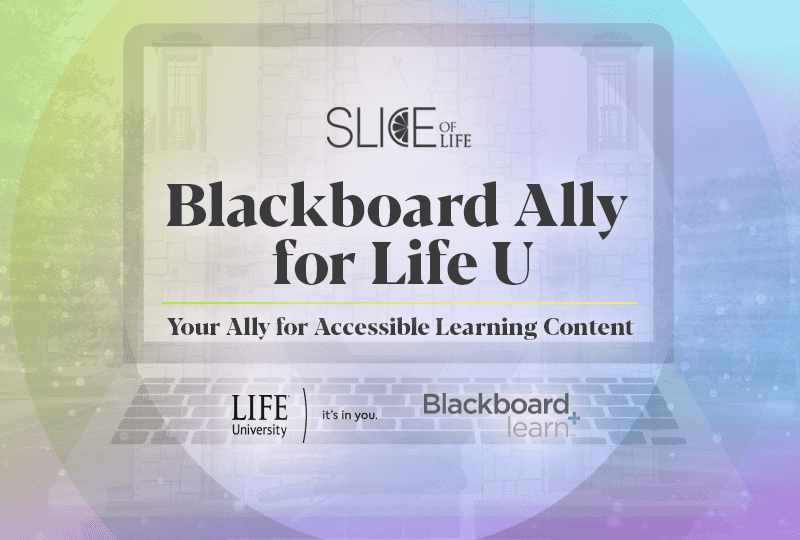 At Life University (Life U), we pride ourselves on going the extra mile to make sure that each and every student on campus has access to the materials they need in order to reach their innate potential. With that principle in mind, Life U recently activated Blackboard Ally on Blackboard, the course login site that Life U students already know well.
According to Jessica Lewis, Educational Technology Specialist for the Center for Excellence in Teaching and Learning (CETL), the decision to integrate Blackboard Ally as Life U's assistive software came quite naturally as "it is native to Blackboard, it works best with our LMS (Learning Management Software), and it has all the features we could want." The Life U IT department and CETL worked together to get Ally up and running on the backend, resulting in a smooth transition and allowing for its availability throughout Blackboard.
Ally is an amazing tool with many compelling implications, but there are a few main things that students, in particular, should be aware of. The main way in which students would interact with Ally has to do with its ability to provide students with alternative formats of course materials.
"The format of presented materials on Blackboard is not always the most accessible for our students with disabilities. Ally allows our students to choose the format that is most accessible for them based on their learning needs," said Dr. Genelle Haney, Director of Disability Services.
It's beneficial to note that this introduction of Blackboard Ally can serve as an asset to all students, allowing for increased flexibility with the simplest and most effective methods for interaction with course materials. When an instructor inputs course files and HTML content into Blackboard, Ally automatically generates eight different alternative formats for students available for download. These formats are intended to work better with assistive tech, mobile devices and study tools. Look for the "A" icon or anywhere "Alternative Formats" shows up in a course, and a dropdown menu of available options should come up.
The eight formats available are:
OCRed PDF- Automatically extracted text. The advantages of this format are that it improves scanned documentation and allows for better reading and text search.
Tagged PDF- Structured PDF for assistive technology. This format improves navigational needs, and it is essential for screen readers.
HTML- For browser and mobile use. This format is great for text customization and adapting text to mobile screen sizes.
ePub- Reading on tablets and e-book readers. This format is helpful for annotating and highlighting.
Electronic Braille BRF files- For electronic braille displays to allow those with visual impairments to read educational content.
Audio (MP3)- Recording of text, which allows students to listen and learn on the go, as well as to engage in an auditory format if that is their preferred learning style.
BeeLine Reader- A machine-translated version of a document. This aids with on-screen reading to allow for faster reading and better focus.
Translated version- This allows text to be machine translated in 50 different potential translations. This is an opt-in format, meaning that administration may need to be contacted to receive translated versions of certain documents.
"My particular favorite, and one that people may like to use whether they have an accommodation or not, is BeeLine Reader," said Lewis. "[…] What it does is it takes the text and puts it through a gradient of colors, which just helps your eyes. It sort of chunks the text instead of it being just this big, long wall of black on white. It goes through a gradient of colors and just helps guide your eyes through the text, so you always know where you are."
Enabling these tools is just another way that Life U helps students to succeed. This tool also includes backend features that provide instructor feedback to assist instructors in creating the most accessible educational content possible. Instructors can see Accessibility Indicators next to their files, which will tell them how accessible their content currently is and also suggests steps on how to increase its accessibility.
Some faculty members have already asked for more training on how best to utilize Ally, which CETL plans to offer in the near future. However, Ally serves such a broad spectrum of potential students' needs that it makes it a challenge to figure out how to create an overarching training that will cover what might need to be addressed," explained Sarah Burkett, CETL Program Coordinator.
"If people come to [CETL] with a specific question and a specific need, we can address that on a case-by-case basis," clarified Burkett.
Play around with Ally, and you just might find your new favorite way to study.
Slice of LIFE is an invitation to and extension of everything happening at LIFE University. Whether you are a current student, a potential freshmen, or a proud alum, Slice of Life can help keep you connected to your academic community. Know of a compelling Life U story to be shared, such as a riveting project, innovative group, or something similar? Let us know by emailing Marketing@life.edu.
Related posts