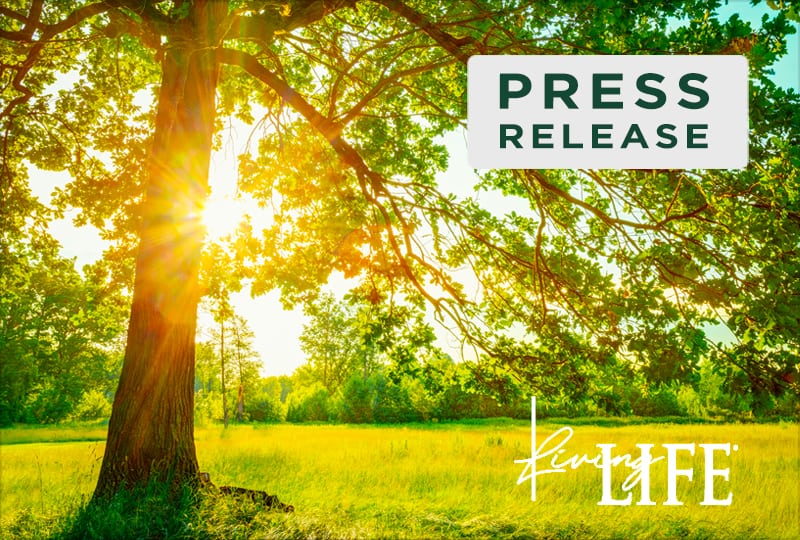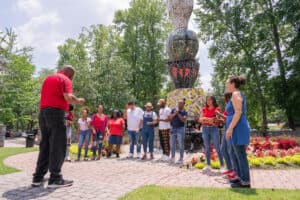 Marietta, Georgia- June 16, 2022-  A few days ahead of the newly recognized federal national holiday Juneteenth, Life University (Life U) hosted their first annual Juneteenth Celebration to line up with the Spring 2022 graduation. Students and staff enjoyed music, delicious food and fun yard games on June 16 from 10 a.m- 3 p.m. at Life U's iconic Torch of Tolerance Monument to commiserate the historic occasion.
Juneteenth is a holiday that has gained considerable attention in the last few years, commemorating a fateful day in June 19. 1865 in which the Union Army strived to enforce the Emancipation Proclamation by arriving in Galveston Bay, Texas to announce that over 250'000 enslaved black people in that state were free by executive decree. It is a major tenet at Life U to celebrate diversity and positive change, so it was a natural decision to hold an event to honor Juneteenth on campus.
Robin Nelson, an Executive Member of the Black Faculty and Staff Association at Life U, remarked on a committee brainstorming session that eventually led to hosting this event and other similar programs. Nelson looked the perfect picture of Juneteenth pride in a poignant Juneteenth t-shirt, checking students into the event through the Engage system.
"We wanted to find some ways to serve the campus more and this was one of the ideas that we had, to put on a celebration of Juneteenth because we haven't done that before on campus," said Nelson.
Several groups and associations on campus came together to plan and host the event, including tbe Diversity Committee, the Office of Diversity, Equity and Inclusion (ODEI), Life U Conflict Resolution Accountability, Life U Shop, Life U Black Faculty and Staff Association and the Student American Black Chiropractic Association. Dr. Harris Davis, Director of ODEI, also coordinated a partnership with the Cobb County NAACP for Life U's participation in the Juneteenth Festival in Marietta Square, where Life U sponsored a table in order to connect with the community.
"We celebrate diversity year-round. We have been in Pride Month, now celebrating Juneteenth. What we try to do is to embrace all diverse events and activities," said Dr. Michael Smith, Associate Dean for Academic Engagement and Executive Member of the Diversity Committee.
The setting for the Juneteenth event proved very fitting as the giant Torch of Tolerance Monument, created in honor of the 1996 Atlanta Olympics, is intended to serve as a reminder to treat all people with respect and kindness. The torch statue provided a colorful backdrop as the Voices of LIFE gospel choir sang two inspiring songs at the end of the event, "Ride on King Jesus" followed by "Hallelujah, Salvation and Glory". It seemed right as well that since Spring 2022 graduation had occurred that same day, students of all ethnicities and backgrounds could be seen smiling and taking proud photos together, celebrating their achievements here at Life U. The University plans to continue this new annual Juneteenth Celebration tradition on campus.
Founded in 1974, Life University is a health sciences institution most known for its College of Chiropractic, the largest single-campus College of Chiropractic in the world. Undergraduates can pursue 14 undergraduate degrees; a pre-chiropractic, degree-seeking pathway; and three graduate degrees within the College of Graduate and Undergraduate Studies. Some degree programs are offered to distance learners through the College of Online Education.
Life University strives to empower our students to succeed both professionally and personally. At Life U, we innovate our approach to higher education, while also remaining true to our philosophical commitment to produce informed leaders who exemplify humanistic values in their professions. To achieve this goal, Life U recognizes and demonstrates its dedication through three official Life University Values: Lasting Purpose, Vitalism and Integrity.
Life U's 110-acre campus in Marietta, Georgia, just northwest of Atlanta, is home to more than 2,800 undergraduate, graduate and professional students who come from all 50 United States and more than 65 countries.
For more information about Life University, visit life.edu.
About Life University
Life University is regionally accredited by the Southern Association of Colleges and Schools Commission on Colleges (SACSCOC) to award baccalaureate, master's and Doctor of Chiropractic degrees, and also has programmatic accreditation through the Council on Chiropractic Education (CCE) and the Accreditation Council for Education in Nutrition and Dietetics (ACEND). The mission of Life University is to empower students with the education, skills and values necessary for career success and life fulfillment, based on a vitalistic philosophy.


Related posts