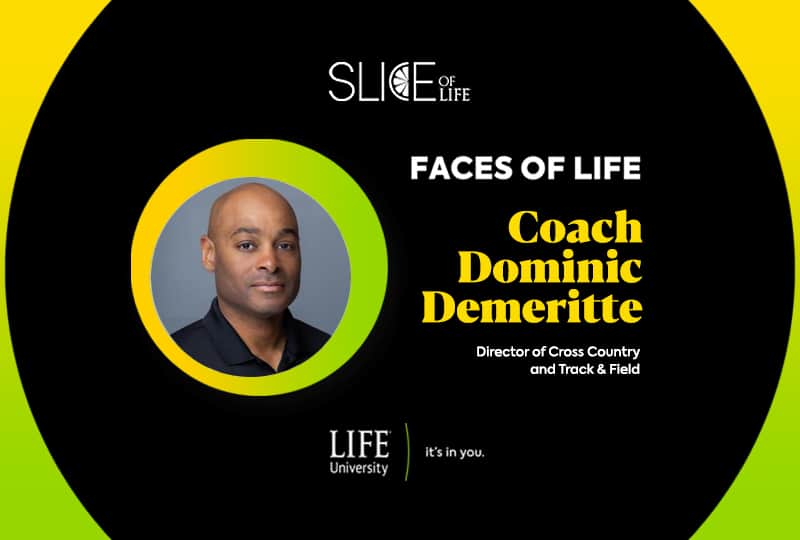 Director of Cross Country and Track & Field
If you are looking for a coach that not only walks the walk but actually runs the run, look no further than Coach Dominic Demeritte, Director of Cross County and Track & Field for Life University (Life U). Demeritte is a native of Nassau, Bahamas who has an impressive personal athletic resume as a top-class sprinter, competing collegiately at a high level for UNC and then representing the Bahamas twice in the Olympics, as well as capturing bronze in the 200m at the World Indoor Championships in 2003 before taking gold in the 200m at the World Indoor Championships in Budapest in 2004.
As stated in his athletics profile on the Life Running Eagles site (liferunningeagles.com), Demeritte earned his Master's of Recreation, Sports and Tourism (Sports Administration) from the University of Illinois- Urbana Champaign and currently lives with his wife, Gianne; daughters, Sanae and Saige; and son, Grayson.
Prior to joining Life U, Demeritte previously coached at the high school level, developing over 80 collegiate athletes and two New Balance All-Americans, as well as leading The Marist School to six GHSA Team Championships and 38 GHSA Individual/ Relay Champions.
Demeritte's journey with Life U has been a long and rewarding one. He was originally brought on in 2015 by Dr. Catherine Faust, Former Head Women's Cross Country Coach and now Dean of the College of Graduate and Undergraduate Studies (CGUS). He first worked for the University on a part time basis as Assistant Coach for Women's Track and field. Under his lead, the women ran away from the competition in the Mid-South Conference (MSC) Championships for the program's first conference title, earning Demeritte MSC Coach of the Year honors and the team a MSC Field Athlete of the Year, nine Conference Champions, and 12 All- Conference nods. The team's achievements carried over to the national stage where they tied for 10th overall at the NAIA Championships in Gulf Shores, Alabama., recording a National Champion and four All- Americans.
In 2020, Demeritte became the full-time Head Coach of Men's Cross Country and Track & Field and now Director over the entire program. In fact, Demeritte essentially led the charge in re-establishing the men's program in 2020, recruiting and building up his team members.
Demeritte listed many reasons why he loves working at Life U.
"I definitely like the diversity. I love working with people and being around people unlike myself, where I get to learn more about people and learn about new cultures, so I definitely like the international flavor of the University," said Demeritte. "I love the support that I do get from administration, as well as the flexibility to do what I do on a daily basis without the daily oversight."
As wonderful as it is working with a diverse group students and staff, juggling roughly 70- 80 student athletes with differing goals and needs can pose its fair share of challenges. Providing structure and an overall positive experience for all of his team members, managing those expectations, is a tall order.
"As a head coach, you wear 10 different caps, so being able to manage all those caps is important, as well as being able to manage your family life," explained Demeritte.
Demeritte is thankful for his supportive wife and family as he continues to navigate how to fulfill all his obligations. Similarly, time management is a skill and a necessity that Demeritte seeks to instill in the students he works with.
"Time management is definitely the biggest thing that we run into. With so much freedom, time away from home […] learning how to manage your day to day and understanding that you have enough time in a day to get all these things done and still be productive in the classroom and on the track," said Demeritte.
Demeritte's continued success and future with Life U appears to be very encouraging. The coach has made many great connections in the Life U community and has many people he expresses gratitude toward for giving him the opportunity to grow here, including Dr. Rob Scott, Jayme Pendergast (Director of Athletics) and Dr. Faust.]
"I can actually say I am excited to come to work every day. There has never been a dull moment. I had being praying for an opportunity to be at a place where I feel valued and I definitely feel valued. Even as a professional athlete, I haven't always felt that way. Being able to feel that way is a blessing in itself and I never take those lessons for granted," Demeritte said.
This article was originally published in Your Extraordinary Life (YEL), Life University's Alumni and Friends Magazine, 2022- Volume 15. YEL started in 2009 as a twice-per-year publication before moving to three issues per year from 2010-2017. In 2018, University leadership made the decision to publish a larger, more elegant version of the magazine just once per year that our alumni and friends could be proud of. YEL features an in-depth look at all things Life University, from alumni and student human interest stories to recaps and previews of the University's biggest events. If you are a proud Life University alumni, friend or supporter, this publication is one you can't miss!
Read the latest issue and past issues at this link or pick up a print copy on campus.
Related posts