Dear LIFE Community,
It brings me great pleasure to share with the LIFE Community that we have one of the most dedicated and devoted chiropractors among us. His name is Dr. Roy Sweat. He is the oldest practicing chiropractor in the state of Georgia and is also faculty in the College of Chiropractic!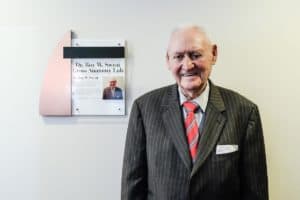 Dr. Sweat has been in private practice since 1953. He started teaching at Life University when it was still Life College. He has dedicated his time to not only teaching students, but supporting them in research as well. He has written four books and has more than 30 articles published, all of which he shares with the many students he has taught. He is an inventor and organized the International Society of Chiropractic Orthospinology and is the founder of the R. W. Sweat Research Foundation. Dr. Sweat has hundreds of accolades; however, his primary mission is to share Atlas Orthogonal around the world.
When interacting with Dr. Sweat, you get the feeling he is focused only on you. He always has a kind word and a smile and treats every individual with the highest respect. The Atlas Orthogonal course, where he is the lead instructor, has been consistently held since 2005 – twice a week for 64 quarters in a row, which shows how much students appreciate learning from a master of upper cervical adjusting. Whether there are four students or 40, Dr. Sweat is passionate to share how important a specific atlas adjustment can make a difference in a patient's life. He supports our students as a PEAK doctor, allowing even more immersion into his expertise. Having one of the chiropractic innovators in our midst is a blessing, and I am proud to be his supervisor in the Chiropractic Sciences Division.
Lydia Dever, D.C.
Division Chair
Chiropractic Sciences Division
College of Chiropractic
Related posts