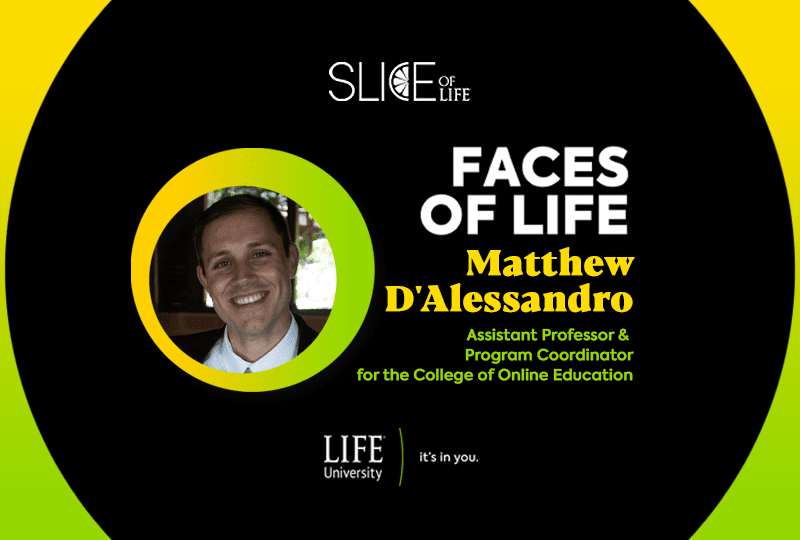 Assistant Professor & Program Coordinator for the College of Online Education
Bachelor's Degree in Anatomy and Physiology
"Service of Country and Life University"
Dr. Matthew D'Alessandro is an Assistant Professor and Program Coordinator for the new online Bachelor's Degree in Anatomy and Physiology in the College of Online Education at Life U. He is also a Captain in the United States Army as a research psychologist.
"The Army called me and said we have this position, however, the application process is tedious and long. After nearly two years of recruitment, the Army said , 'You have officially been selected,'" said Dr. D'Alessandro.
For as long as he can remember, Dr. D'Alessandro has always wanted to serve his country. He considered enlisting right after high school, but his parents wanted him to first get a college education. After his undergraduate degree, he pursued a doctorate in Neuroscience from Florida State University. From there, he moved on to a postdoctoral research fellowship in Biomedical Engineering at the Center for Engineering in Medicine, Harvard Medical School. While Dr. D'Alessandro was completing his postdoctoral work, he was also taking classes to earn a graduate certificate from the University of Massachusetts in Clinical Pathology and teaching online as an adjunct instructor.
After his postdoctoral work, Dr. D'Alessandro taught for three years as a full-time faculty member at The School of Physical Therapy at Florida Southern College. While teaching within a physical therapy program was a wonderful and challenging experience, Dr. D'Alessandro decided to pursue other options and applied for a military officer position. The process took almost two years, and he was the only research psychologist selected by the United States Army for the 2022 selection period. He is now a commissioned officer in the United States Army. Dr. D'Alessandro spent one month training at Fort Sill, Oklahoma at the Army's direct commission course (DCC) and an additional nine weeks of training in San Antonio at Joint Base Fort Sam Houston where he completed the AMEDD Basic Officer Leadership Course (BOLC) and graduated on the Commandant's list.
Dr. D'Alessandro is teaching one class and designing four others for Life U, including a new course that will be weaving Vitalism throughout it called "BIO 450: Understanding Human Body Systems." This course is now fully approved and will officially launch with the new fully online Bachelor's Degree in Anatomy and Physiology in the 2022 Fall Quarter. This new course addresses pain as an important alarm system for the body, and that part of the healing process is to recognize the pain and allow the body to rest and heal on its own without rushing in with pharmaceutical and man-made interventions.
"Vitalism is an essential part of what we stand for at Life U," said Dr. D'Alessandro.
His typical weekday begins early around 5:00 a.m. training with the Army throughout the day. He's then on to physical workouts to keep in shape in order to pass the regular fitness tests that the Army requires and then starts to work for Life U for another five hours. On the weekends, his days begin even earlier, rising at 4:00 a.m. in order to complete his course design and teaching responsibilities
He spoke about the importance of connecting with his students and shared one story regarding a student who was very bright but was really struggling. What made the difference between success and failure was the connection the two made with one another and that Dr. D'Alessandro was able to mentor this student. He also talked about his passion for course design and starting the new online degree in Anatomy and Physiology.
"With being the program coordinator and working alongside the instructional designers to implement new courses, I get to refresh and stay up to date on current scientific material," said Dr. D'Alessandro. "For example, the new neuroanatomy textbook that I am using – I'm learning circuitry that I haven't truly mastered before. Some may think that if you have a Ph.D. in neuroscience, you know everything. The fact of the matter is that you don't know everything and you never will. There are always things to learn." Furthermore, he stated, "Be open-minded and take a step back when you are being constructively criticized. Listen when people are giving you advice, and there is no need to answer right away, all of the time. It's OK to say, 'I am going to take that into consideration.' It's OK to say 'I don't know.' It's OK to reflect, and it's OK to make suggested changes. We're not perfect."
Matthew and his wife Milla have been married for five years and have a 16-month-old daughter, Victoria. They have three pets, a dog named Mafalda, a tarantula named Artemis and a giant waxy Peruvian Monkey Frog named Ashuka.
His best advice to others comes from mentors in his life and something the Army teaches on a daily basis. Curveballs are thrown into daily life to see how people deal with changes. The Army may give a particular objective with the intent to complete it in a certain way. Then, all of sudden, plans drastically change, and a new "Frago" (fragmented order or change of plans) is made. One must be able to accept the Frago and make the necessary changes to carry out the objective in a new fashion.
Related posts